Breaking Dawn continues to roll and proves that three times is a charm as the film added another $16.9 million to its total of $247.3 million domestically to win the box office for the third week in a row.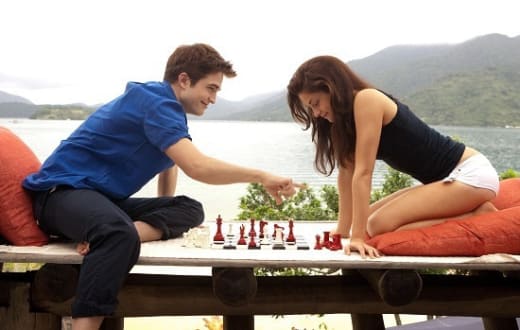 The Muppets
came in second for the second week in a row with $11.2 million, bringing its U.S. total to $56.1 million. Looks like Jason Segel, Kermit and Miss Piggy will be back for a sequel, thank goodness!
Hugo
, as we predicted in last week's
box office report
, is picking up speed. The Martin Scorsese film landed in third place with $7.6 million, bringing its total to $25.3 million, which should only grow as the holidays get closer and word of mouth continues to build for this fantastic film.
What sticks out on this extremely slow box office weekend are the hangers-on from past weekends.
Tower Heist
is in its fifth weekend and is still in the top 10. Brett Ratner's film, that stars
Eddie Murphy and Ben Stiller,
has inched its way up to $70.8 million. Think it will hit the coveted $100 million mark? Also lingering is
Puss in Boots --
at number 10 with $3.1 million -- taking its total to $139.5 million in six weeks of release.
Box office top 10:

1. Breaking Dawn, $16.9 million
2. The Muppets, $11.2 million
3. Hugo, $7.6 million
4. Arthur Christmas, $7.4 million
5. Happy Feet Two, $6 million
6. Jack and Jill, $5.5 million
7. The Descendants, $5.2 million
8. Immortals, $4.4 million
9. Tower Heist, $4.1 million
10. Puss in Boots, $3.1 million