Carnage star Christoph Waltz has had his share of entanglements on screen of late. He won an Oscar for his role as a without-regard Nazi in Quentin Tarantino's Inglourious Basterds. He served as Seth Rogen's foil in The Green Hornet. But he gets into a whole new level of confrontation with his part in Carnage opposite Kate Winslet, Jodie Foster and John C. Reilly.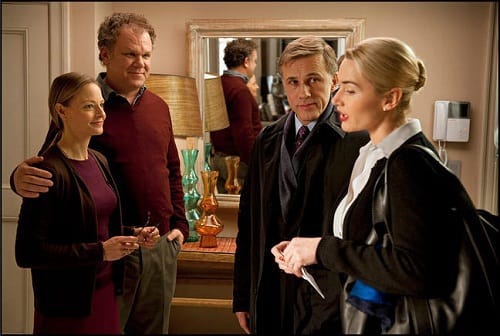 Carnage
is based on a play and is an actors' showcase in its storyline. Two kids have a schoolyard fight and their parents get together for a summit of sorts.
Waltz is talking to Movie Fanatic about how
Carnage
was especially meaningful for the actor. He achieved a dream of working with the great director Roman Polanski. His adoration for the director of
Carnage
is effervescent. "A generous amount of time is something that you need. I was in awe," Waltz said of the first days of filming with the lauded director. "The degree of my respect for him is almost unlimited. It's good to actually have a day or two to get over that and just do the job."
The Oscar winner got his chance to appear in the film courtesy of a few friends. "There are connections that are a lot closer to the usual six degrees and someone said to me it would be good if you could see Roman. But he's in Switzerland. It truly and seriously innocently happened that I was in Switzerland too," Waltz said and laughed. "I took a train and saw him. And that's how it started."
The script for
Carnage
had Waltz ready to commit. That it was a Polanski film was pure icing on the cake. "I had no idea who or what was attached when I read it. It was Roman Polanski. That was it. That was enough reason for me to go there. The first time I saw a Polanski movie it was the late '60s --
The Fearless Vampire Killers
," Waltz said.
"Even then the man Polanski was already known to me. I'm aware and in awe of Roman Polanski for… almost 50 years now. That's exaggerated," he said chuckling. "It's more like 45 years."
His character in
Carnage
is on his cell phone all the time. It is almost another character in the ensemble piece. Is Christoph a cell phone guy? "It matters who's calling," Waltz said and smiled. "I answer my phone more than I make calls myself."
The biggest challenge for Waltz in
Carnage
was to keep the presence of mind to maintain that laser sharp level that Roman Polanski possesses 24 hours a day. "To stay with it, it's exhausting to maintain your concentration to that level," Waltz said. "You have to keep up. He is not working within the comfortable."
Playing with Kate Winslet as his co-star was also a delight. They got very close. "She got so close she puked on me," Waltz said of a hilarious scene in
Carnage
.
As it is based on a play, the immense character interaction between the four leads was intense. "It's just the four of us every day. You get to know the people whether you want to or not. In this case, I wanted to," Waltz said. Again, it is courtesy of the director behind
Carnage
. "It's more proof of Roman's mastership. He picks the right people. It's not just for what he needs in terms of the movie. It's about what also he needs to arrive at the movie that he wants."
Carnage
could be called a departure. Waltz does not see it that way. After being notoriously known for villains, he sees things differently. "I'm not an acrobat. I'm just an actor. I play the parts as good as I can. I depend on the author. I depend on the director," Waltz said of his villainous history on screen in Hollywood.
"Really, I depend on being given the chance to do it at all. I don't look at scripts or parts from the other end. That's not something I consider," Waltz said and leans in. "Can I do what would be required to play the part in the interest of the movie? And would I like to do that? Am I willing to give up a part of my life for that?"

Now that Carnage is in theaters, can Waltz look back at the Polanski experience and grasp its meaning? "It's one of these experiences, honestly, why me? What makes me so special that I get this chance? Why not you? The probability seems to be insurmountable," Waltz said. "Yet, it was me. It's something that I still have a hard time wrapping my mind around."