Dragon Tattoo Exclusive: Legend Christopher Plummer Visits Movie Fanatic
by Joel D Amos at . Comments
Christopher Plummer is a film icon and could easily rest on his laurels, but 2011 was possibly his best year ever. The 80-year-old actor is visiting with Movie Fanatic at the Crosby Hotel in New York City reminiscing on the year that was, and taking us inside the David Fincher world of The Girl with the Dragon Tattoo starring Daniel Craig and Rooney Mara. Plummer even shocks us hilariously when we walk in the room to meet him.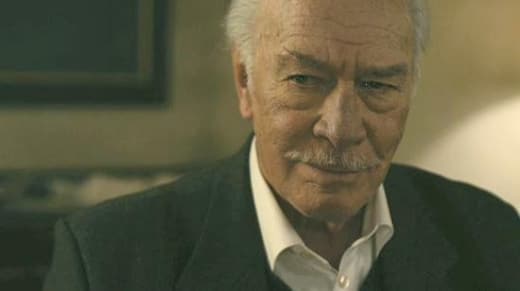 "Come here, quick and look. There's a man out there who is about to be in trouble. He took someone's parking space and then parked his car horribly," Plummer said as he smiled looking out the hotel's window. "Look at him taking up the whole street."
After sharing a laugh, the legend asks me to take a seat. We start by asking Plummer about the best line in the entire movie, and it's in the trailer. He delivers a line where he describes his family to Daniel Craig's Mikael Blomkvist using the most loathsome of descriptions. "You die for lines like that," Plummer said as he laughed. "You hope you get them all the time. If they're so well written, which this was, all you have to do is say them."
"It's a lovely line and it's very Swedish," he said and laughs again.
The legendary actor has had quite a year. His turn in
Beginners
(one of our
Best of 2011, so far
) was astounding and critics' awards and nominations are beginning to pile up, like his recent Best Supporting Acting nod from the Golden Globes. "It's been a great year. I've been incredibly busy. That's wonderful to be remembered by them," he said of being honored by his peers. The Santa Barbara Film Festival is even awarding Plummer their Modern Master Award. "If your own peers like you, well, usually they hate you [
laughs
]. Maybe that will only last this year. They'll go back to hating me."
We then asked Plummer what he thought it was about Stieg Larsson's The Girl with the Dragon Tattoo that has made it an international phenomenon. "Most of the world has a morbid curiosity. If you're a mystery writer and a journalist at the same time [like Larsson], you're going to try to squeeze the most horrific thing that you possibly can," Plummer said.

"It's a wonderful yarn, too. The public will always be fascinated a) with horror, and b) with a wonderful tale. To top it all off, the audience is really going to be pulled in, particularly in the movie version because of that androgynous creature called Lisbeth Salander, who is so incredibly played by Rooney Mara. That is a performance that is so courageous, to say the least, as well as heartbreaking. It is extraordinary the relationship she has with Daniel Craig as Mikael Blomkvist."
Speaking of Mr. Craig, who knew he has his biggest fan in Christopher Plummer? "Personally, he's a charming, very funny guy," he said and laughed. Professionally, Plummer was blown away by his subtle power and the selfless act of Craig's playing a man whom we don't normally see from the actor who is Bond.

"And as an actor, he is simply wonderful in an extremely difficult role. He's playing a loser. The way he tackled it was fascinating because he didn't push it. He was in himself and doing a job and getting it done. Suddenly, later on in the story, his warmth comes through. You see there's something behind this guy. She sees it too because she needs it, even though she denies it most of the time [laughs]. I've always admired Daniel since his work in Munich, he was absolutely marvelous. Then, he did the James Bond. I thought, 'Yes, he is extremely good as James Bond -- a real, tough guy, man.' But, he's such a more wonderful actor than that. And here he is in a wonderful part and if he goes on doing the trilogy which sees his role becoming deeper, I think he'll make a great success out of this. He's only going to do films of great quality and James Bond, too. Why not?"

The director of Girl with the Dragon Tattoo, David Fincher, is notorious for his dozens of takes on his sets. But Plummer did not find Fincher's methods taxing in the least. "He's so versatile. He's a chameleon. He becomes the story that he is shooting. None of them look alike. Panic Room was miles away from Social Network -- you wouldn't have known it was the same guy directing it," Plummer said.
"There are no tricks with him or signature way of cutting. He treats each story honestly for the story's sake so that you don't believe that anybody is directing. That is the highest you can give to a director. You see him maneuvering
Tattoo
. He comes in and does a different kind of directing, he orchestrates with his camera and editing. He's one of the best directors in the world, no question. He doesn't play the game. He plows on and does it. That's why I love him so much."
At 80 years of age, Plummer could easily retire and rest on his well-earned laurels. That is never going to happen. "Retirement is out of the question," Plummer said and smiled. "I have to keep going. First of all, I have great fun in my profession. I don't find it boring at all. I love the craft of acting. It keeps your mind fresh. You've got to keep working hard."
Plummer has appeared in a slew of different movies from all kinds of genres as he's starred in
Priest
,
Last Station
,
Dragon Tattoo
and
Syriana
-- and that's just in the last few years. Variety is the spice of life for this actor. "So many actors like being a star, so they remain the same. That is a movie star," Plummer said. "Acting for me is variety -- being someone else. Then it's on to the next film where I'm completely someone else. There's always a disguise of some kind."
Alas, our time with an icon was coming to a close. So, we just had one more question: What does Plummer appreciate most about
The Girl with the Dragon Tattoo
? "I like the fact that this is particularly Swedish," Plummer added. "It has all that grey haunting and ominous atmosphere hanging over it that hangs over all Swedes, who deal with it in a very sophisticated way."