The Girl with the Dragon Tattoo star Stellan Skarsgard is as pleased as pie when Movie Fanatic sits down with him at the Crosby Hotel in New York City. He should be. Skarsgard has had an incredible year that was equally as successful for the actor as it was inspiring.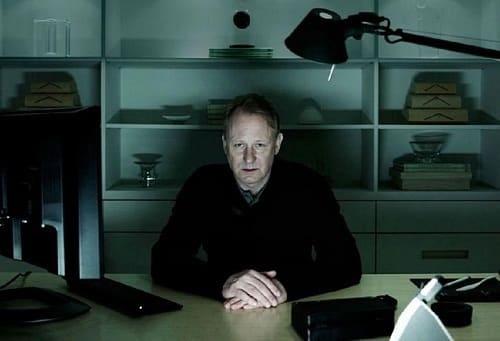 The Swedish actor starred in
Thor
,
Melancholia
and now
Dragon Tattoo
. That's quite a year for the man who was trained on the stages of Sweden and now is an international movie star. Actors have no say when films get released, but the fact that Skarsgard has had three incredibly well-received films come out in one calendar year is something he looks on a bit differently than most. "I never would have thought of it as a great year, but I understand there's been a lot of attention around these movies. I really concentrate on doing them. They are all very different, that's what I live for, it's food to me. But, it's fun that it's three movies where all three are good, and very different," Skarsgard said. "I got to work with three really good directors. Getting to work with three incredible directors in one year, that's not bad. It's very inspiring."
In
Girl with the Dragon Tattoo
, Skarsgard portrays Martin Vanger. He is part of the family that Christopher Plummer refers to in the
Dragon Tattoo trailer
as "the most detestable collection of people that you will ever meet." Plummer has hired Daniel Craig's Mikael Blomkvist to solve a forty-year-old murder involving his family. Skarsgard's Martin is more than game to help Craig, and Rooney Mara's Lisbeth Salander, catch a killer.
Portraying a character that is central to any mystery is a tricky endeavor for an actor. The possibility of revealing too much for the audience is always there. "You make your choices. But also, what we decided to do with several of the scenes is different levels of transparency in each scene. I played it a couple of times without revealing anything. And then some where you could feel something strange going on and some where you really feel the black undertow really popped off," Skarsgard said. For him, the challenge is actually pure joy. "That's fun to be able to do that.
David Fincher
does so many takes and he allows you to show different sides of the character. Then, it's up to him to calibrate it when he edits."
When it comes to director Fincher, he could have been filming Dr. Seuss and Skarsgard would have participated. "What I wanted to do was not
Dragon Tattoo
. What I wanted to do was work with Fincher. I really didn't care what material he had. I knew it would be interesting," Skarsgard said. Working with Fincher has its benefits. There are few directors working in 2011 that possess his uncanny vision. "In this case, I was sure that it was going to be a very intense film. I was sure it would have an atmosphere that would have enormous density. I was sure he would take care of the characters in the film -- he's not only technically brilliant."
Fincher warned Skarsgard of his notorious shoots that can often mean dozens of takes per scene. "He said, 'If you work with me, it's not going to be fun. I do like 40 takes.'"

Skarsgard's reaction to Fincher's warning was not what the helmer expected. "I'm not working if it's not fun. Doing 40 takes is fun to me," Skarsgard said and laughed. "He uses the takes to create a scene that is unlike anything you've ever seen. A lot of things happen because after 39 takes, you're pretty tired. You start losing control. But, that also can bring out things that you never planned. Which is what life is… unplannable. But the atmosphere on the set is extremely concentrated, but extremely relaxed. There's a lot of jokes going on, he has a great sense of humor."

Being from Sweden where the country's version of the film is a blockbuster, Skarsgard bucked what we thought when he informed us that his country sees another film being made of their beloved Stieg Larsson book as an honor. "I think that people in Sweden are extremely proud and happy that Fincher is making it. Also, that Fincher came to Sweden to film it there," he said. "That means a great deal."

Although he's seen the Swedish film and is keenly aware of the Dragon Tattoo book, Skarsgard cautioned that when approaching any fresh material, one must stay true to what it is you are crafting. "It's more about the script and the film you're trying to make. For instance, I haven't read the book yet. I saw the Swedish script and film and I knew the story. Everybody knows the story in Sweden by now. Every time you do something from a source, it is to a certain extent, you should be true to core," Skarsgard said. "It has to be a piece of art that has to stand on its own legs. It was what I hoped the film would be like and a little more."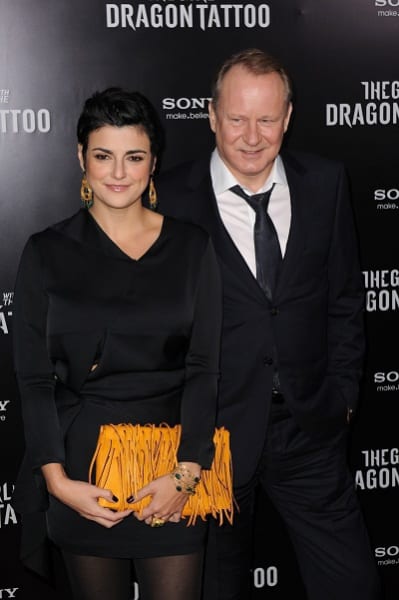 When asked what moment of his career stood out, Movie Fanatic got the most personal of answers. "There was something that changed my attitude towards a lot of things. I did a film called
Good Evening, Mr. Wallenberg
. I played Wallenberg, who saved Jews in Hungary during World War II. We were shooting in the old ghetto there, night shoots, freezing cold. Out of the houses came all these Jews that had lived there and had met Wallenberg. They came up to me and touched me and cried. Suddenly, it became something different for me. I didn't care if this became a good film. I don't care if my performance is a good piece of art. The only thing that is important is that in some essence or way, what I do is true to those people and their lives," Skarsgard said.
"The strange thing was what came out of that was I suddenly could do pure entertainment films because they were just as unimportant as the serious films to me. In a way, it made me more lighthearted in my approach. I was not so pretentious. Now I'm doing the dark stuff and the light stuff and I'm having a good life [
laughs
]."