Two new DVD and Blu-Ray releases arrive this Friday, set apart from the usual Tune in Tuesday release hype: The Smurfs and Friends with Benefits. Seems like more and more studios are releasing DVD and Blu-Rays on Friday in addition to their Tuesday roll-out and we've got your preview for the two released today.

The Smurfs: The international blockbuster comes home on Blu-Ray and DVD with a slew of extras sure to satisfy the biggest little blue people fan. The Smurfs is a fun film and took the gang from their forest into the Big Apple of New York City. Neil Patrick Harris and Glee's Jayma Mays star as a married couple who wind up integral to helping the Smurfs achieve their big city dreams. And Hank Azaria kills it as Gargamel.

The Smurfs extras include:

The Smurfs: A Christmas Carol Mini-movie
Smurf-O-Vision: Second Screen Experience
"The Smurfs Fantastic Adventure" Game
"Find the Smurfs" Game - Only on DVD copy
Director's Commentary
Producer, Writers and VFX Supervisor Commentary
Deleted & Extended Scenes
The Smurfs: Comic Book to the Big Screen featurette
Smurf Speak: Meet the Cast featurette
Going Gargamel featurette
Progression Reels
"Happy Music" Montage
Blue-pers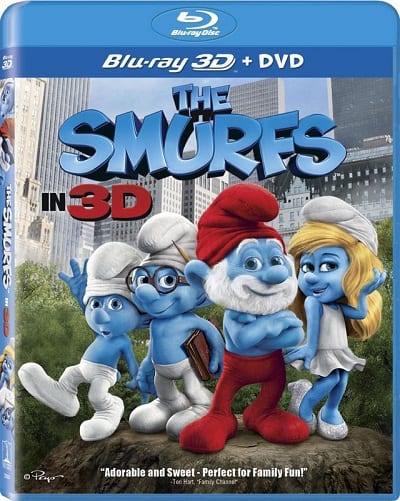 Friends with Benefits:
The best of the hook-up with a friend movies that arrived this year,
Friends with Benefits
stars Mila Kunis and Justin Timberlake who decide to take their friendship further with no strings attached (pun intended to the Ashton Kutcher flick). The extras are kind of sparse, but a few stand out including a pop-up trivia track.
The Friends with Benefits extras include:
Commentary with Writer/Director Will Gluck, Justin Timberlake, and Mila Kunis
Bonus Benefits: A Pop-Up Trivia Track
Deleted Scenes
Outtakes
On Set With
Friends with Benefits
featurette
In A Flash: Choreographing A Mob featurette