Extremely Loud and Incredibly Close Movie Review: Incredibly Moving
by Joel D Amos at . Comments
Films that concern themselves about the 9/11 attacks have had mixed results, not only in box office, but in their ability to capture the unthinkable and put it in an emotional and historical context. Extremely Loud and Incredibly Close, starring Sandra Bullock and Tom Hanks, frankly stands alone in its ability to tell a compelling story, while still reminding us of the fallout from what the lead character in Extremely Loud calls "The Worst Day."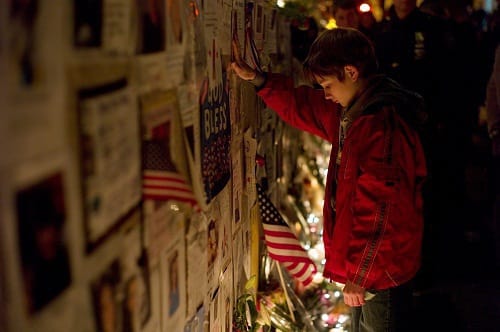 Thomas Horn is Oskar Schell, who is a good-natured young boy before his entire world explodes when two planes crash into the World Trade Center where his father (Hanks) happens to be for a meeting on that fateful Tuesday morning. Not only did Oskar lose his father, he lost his best friend, mentor and his innocence.
His mother (Bullock) deals with her own grief while trying to raise her son who becomes more and more distant as the days pass into a year since the attack. Some days she can't even get out of bed.
Extremely Loud and Incredibly Close
holds its focus far from the buildings that fell and establishes its center clearly on one family and how that day changed everything in a way that they may never recover.
About a year after the attack, Oskar finds a key left behind by his father. He is convinced it is a clue to a massive scavenger hunt that his father had mentioned doing with his son before losing his life. Oskar sets out on a journey across Manhattan's five boroughs. As such, the film is equally a love letter to the city of New York as it is a remembrance to those whose lives were lost and most powerfully, those who survived.
Through Oskar's journey, the audience gets inside the mindset of the thousands of children who lost parents on that horrible day. How do they process such horror? What do they cling on to in order to move forward? And most importantly, how is their emotional state long after the ashes have blown away from Ground Zero?
In Oskar we have a clue how one fictional child was affected. It is extremely complicated to be honest. He has good days and bad days. But during one sequence where all his questions, insecurities, loss, depression and anger come through in a tirade to a mute neighbor (an incredible Max Von Sydow), we see the complexity that is the reality of the children of 9/11. It is one of the most powerful scenes exhibited on film in 2011.
Movie Fanatic saw
Extremely Loud and Incredibly Close
in New York City and we are forever thankful that the city that survived those attacks served as the locale for our screening. It was difficult. The theater was filled with tears, wails and sobbing so strong, you could hear the individuals gasping for air. But, don't be thrown by thinking this is one depressing experience at the movies. The film is powerful, yet also possesses humor and is at its core one fantastic film, regardless of subject matter.
Those who lived through New York's darkest day must see the film. And honestly, will most likely never be able to witness it again. Those of us that knew people who perished that day, but lived in other cities, will appreciate the candor which director Stephen Daldry has exhibited with his film. All Americans, and people of all nationalities for that matter, will treasure the time spent witnessing Extremely Loud and Incredibly Close. It is priceless the way it shows how the nuances from one horrible event can reverberate through lives.

Extremely Loud and Incredibly Close may feature two huge movie stars in Hanks and Bullock, but the true star is Horn. Through his eyes, we see a hurt caused by 9/11 that has never been fully captured on screen since "The Worst Day." The film is a must-see for a multitude of reasons, not the least of which is it allows us an understanding of the true price we paid that day as a human race, not simply as a country.