Some may wonder why there is a sequel to Clash of the Titans, the universally panned 2010 film. Well, when a film makes $493 million globally, you make a sequel. Audiences also get Wrath of the Titans, the Clash sequel, because filmmakers took that criticism to heart and are on a mission to make a great film that audiences and critics both will adore. The film's first photo has debuted in Entertainment Weekly and it's of the first film's stand-out star getting into action, Sam Worthington.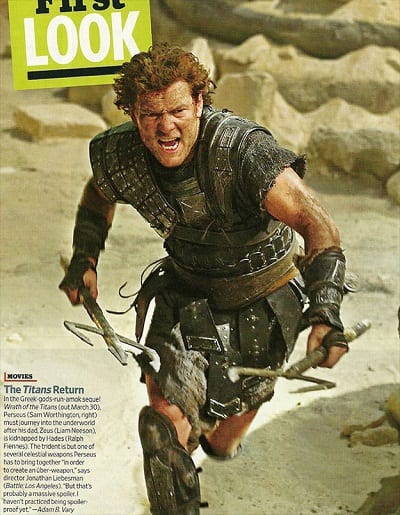 Wrath of the Titans
will be in 3D, as was the original, but is being shot in 3D as opposed to converted. The first film was so notoriously slammed for its ineffectual 3D, look for
Wrath of the Titans
to not make that same mistake. Plus, with the addition of some all-stars to the cast, the ante has clearly been raised. Worthington is joined by Liam Neeson, Bill Nighy, Rosamund Pike, Danny Huston and Edgar Ramirez.