Jason Lee is back with the Chipmunks, where he belongs, the actor tells Movie Fanatic. In Alvin and the Chipmunks: Chipwrecked, Lee returns as Dave, the father figure for the iconic furry creatures who brings them and the Chipettes on a cruise for a little R&R. As only Alvin can, trouble erupts and the gang winds up separated and stranded on a deserted island.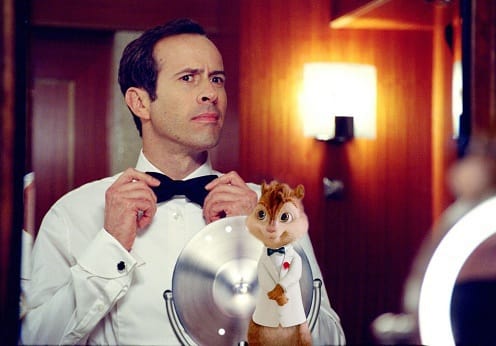 Because of a physical ailment that bordered on scary, Lee wasn't able to participate in the second
Alvin and the Chipmunks
movie as much as he would have liked, but was obviously thrilled the opportunity arose for a third. "I was fingers crossed that there would be another one because they are fun movies to make," Lee told Movie Fanatic. "It certainly made up for the second one I feel because I'm in it a lot, it was a lot of fun and it was more of an adventurous undertaking. It was more of a fulfilling version of the movies."
Lee thinks the secret to the decades-long success of the Chipmunks is actually quite simple. "They are cute," he said and chuckled. He also admits that for kids, they see like-minded beings that can make them feel not so alone in their kid craziness. "I think kids like chaos in an interesting way and the Chipmunks create chaos. I think kids like to push buttons in adults, they like to antagonize and cause trouble and certainly Alvin does a great job of that. I think kids identify with seeing Dave being driven crazy and I think kids like to do that with adults. So I think they identify with that. But clearly it is the kid-like spirit that kids respond to, I think. I think it also represents the fact that these guys get away with lots of things and kids sort of feel like they represent childhood."  
The actor was surprisingly honest when we asked him about working alongside something that is not there and having to communicate parental feelings, as he does in the
Chipmunks
movies. "It's always a bit surreal when you are looking at pieces of tape, stuffed animals or tan beanbags and saying, 'Theodore I missed you' to a beanbag," he said.

But as an actor it has to be extremely difficult, and frankly awkward. "You get over the embarrassment factor pretty quickly. You realize there are a bunch of grunt-like crew that's staring at you emote to a bean bag. You gotta just go, 'What the hell.' I want to make it real," Lee said. "It is a nice thing when you do see the movie and you go, 'Wow, it really looks like I'm talking to these Chipmunks.' That's a great challenge, something I never thought I'd get to do as an actor. So, I get to check that off the list."
The technology that produces the Chipmunks on screen is so vivid -- especially in Alvin and the Chipmunks: Chipwrecked -- it is easy to believe that a man like Lee's Dave would be a "parent" to three Chipmunks and let's not forget those three Chipettes! "There is an accessibility to it. I think it's cool that you see that these chipmunks are more like kids than animals. And I think really the furry, chubby Theodore makes the whole thing cuter."
Being a father himself allowed Lee to channel his inner Chipmunk father much easier. "I certainly know what it feels like to give lots of love and be understanding," Lee added. Then, he touched on something he mentioned earlier: How the Chipmunks, like children themselves, know how to get a rise out of their parents and it's why generations of children adore the little furry fellows. "I also know what it feels like to be antagonized or have buttons pushed at midnight when my son or daughter will just not go to sleep. 'Dad, can I just say one more thing?' 'Okay, one more thing because it is three hours past your bedtime.' So it's that thing with the Chipmunks too where you've just got to let them be who they are at the end of the day."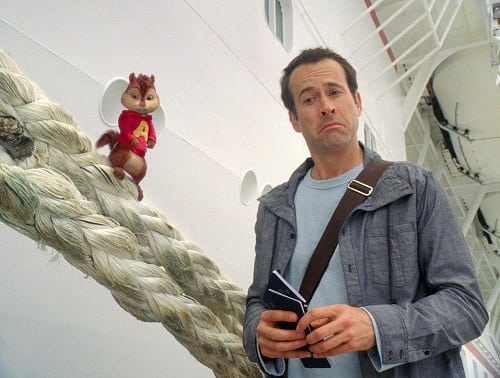 What animated work resonated for Lee when he was a child? "I really liked
Tom & Jerry
," he proudly stated. "
Tom & Jerry
was huge for me. I watched it every morning before I walked to school. Even as a kid I thought that there was something really smart about it. I thought it was very clever and I still watch it today from time to time when it comes on. I love that old animation."
Finally, we asked Lee which Chipmunk he would be if he were suddenly transformed into a small furry creature that sings like a hyper-angel. "They represent the best of all of us. They all represent something that we all have," Lee said. "We get the chaos from Alvin, the smarts from Simon, and the innocence from Theodore, so I think together they make a nice combination of what we all have. So we can identify with each one of them. But for me, if I had to pick one of them... again, I think a little bit of all of them."