David Fincher could not be more of a perfect choice to direct the American version of The Girl with the Dragon Tattoo. Visually and artistically, fans of the Stieg Larsson book trilogy should be beyond thrilled with the choice of Fincher. The man who helmed Seven and Fight Club brings that dark vision and aesthetic brilliance to a story that warrants his priceless touch.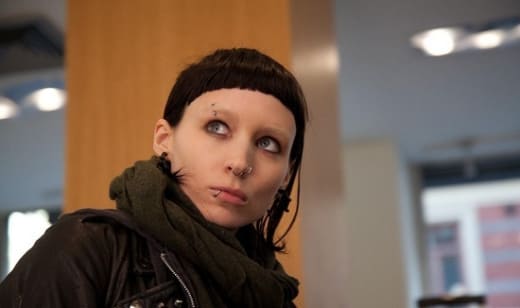 Casting is key when taking a popular book series and bringing it to the screen, especially when the subject has already been tackled by Swedish filmmakers so successfully with Noomi Rapace in the lead. Rooney Mara is scary good as Lisbeth Salander. Her bravado is explosive and the actress deserves serious consideration for a
Best Actress Oscar nomination
. Often throughout
Girl with the Dragon Tattoo
there is so much going on around Mara, yet the audience cannot take their eyes off of her.
At its heart, the film is a thrilling mystery. Daniel Craig stars as a journalist who has recently been disgraced for libel. His career ruined, savings depleted, Craig's Mikael Blomkvist is ready to find some other avenue in life when Christopher Plummer's Henrik Vanger calls. Vanger wants Mikael to investigate a forty-year-old murder of his niece on a remote northern Swedish island which one of the nation's richest and seriously dysfunctional families calls home. With nothing holding him to his Stockholm home, he heads up north and our adventure begins.
Meanwhile, Fincher establishes Mara's Lisbeth as a social outcast who is a ward of the state. She is an expert investigator who was hired for vetting Mikael for the job with Vanger. When Craig needs an assistant for his investigation, Lisbeth is recommended. When the two actors connect, it is a blast of brilliance that permeates throughout the rest of the film, never letting up.
Craig is one of the biggest treats of
The Girl with the Dragon Tattoo
. Normally, whether it James Bond or any of his other characterizations, Craig portrays men with an even keel. In
Tattoo
, his Mikael has many moments when he realizes he is in way over his head and the actor plays it with a vulnerable veneer that is pitch perfect.
As is the case with any mystery worth its salt, nothing is what it appears. What is so mesmerizing about Fincher's
Dragon Tattoo
is that also applies to its characters. Lisbeth, on the outside, is brazenly tattooed and pierced, but looks can be deceiving. She is no punk rock slacker. Lisbeth is all business and any who cross her should beware.
Yes, there are scenes that are downright disturbing, one in particular involving Mara. There is that classic saying that revenge is a dish best served cold. In Mara's hands as Lisbeth, when
revenge arrives
, it is scorchingly sensational.
The Girl with the Dragon Tattoo, if possible, is an even more riveting film than the original Swedish version. The book from which it is based is hardcore in its subject matter and storytelling. Fincher matches that form and even breathes new depths into Larsson's story. From the title sequence featuring Immigrant Song, that feels like a James Bond opening on steroids, to the film's closing moments, there is not a frame of film that Fincher gives his audience that isn't pure brilliance on every level. Evidence of that fact is in the film's length and how it actually feels in reality. Girl with the Dragon Tattoo is over two-and-a-half hours, but feels like a story told in the blink of an eye.