You can imagine the thrill for Movie Fanatic. David Fincher is one of our favorite directors and now we're sitting across from him in New York City's Crosby Hotel talking about The Girl with the Dragon Tattoo.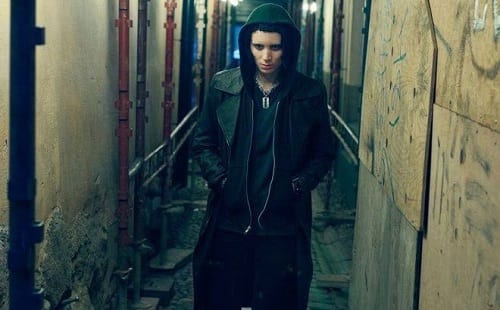 The helmer of
Social Network
,
Panic Room
,
Seven
,
Zodiac
,
The Curious Case of Benjamin Button
and
Fight Club
is a visionary and if there ever was a story that called for his fantastic eye, it is Stieg Larsson's
Dragon Tattoo
. As
Dragon Tattoo
star
Christopher Plummer told us exclusively
about Fincher, "He's a chameleon. He becomes the story that he is shooting. None of them look alike.
Panic Room
was miles away from
Social Network
-- you wouldn't have known it was the same guy directing it."
The casting process, Fincher felt, was the most important. Regardless of what had been done with the Swedish version of the Larsson novels, he knew his movie would succeed or fail based solely on who played Lisbeth and Mikael. He scored with Rooney Mara and Daniel Craig (don't miss our
Mara and Craig interview
).
"It began with Daniel. It is like building a basketball team. You start with kind of the anchor and we started with Daniel. I knew him to be self effacing and to be playful and witty. I knew that I needed that for Mikael as well that I wanted a very masculine kind of center to the film. Then I started looking at the things about Lisbeth that I wanted to see and I didn't see them initially in anyone that we were looking at and Rooney was right under our noses. I had already spent four or five days with her on
The Social Network
," Fincher said.
What drew him to Mara was that she possessed versatility. He wanted the girl from
Social Network
to turn that performance on its head. "The problems she was solving for me at the beginning of
The Social Network
were that she was intensely feminine, very mature, warm, verbal, and she was trying to build a bridge desperately to Jesse [Eisenberg] in those five-and-a-half minutes that she is on screen, and none of those qualities applied to Lisbeth. In fact, they were the antithesis," Fincher said.
"Every time she would come in and we would work together I would say, 'Okay. Now here is a new hurdle and you have to jump this.' Finally, after two-and-a-half months, the quality was undeniable, and the thing that seemed to be the most Lisbethian, was that she was just not giving up. She was indomitable."
The most compelling aspect of the Dragon Tattoo story for Fincher isn't the mystery that lies at its heart. "You know, Nazis, serial killers, and the evil that people do in their basements with power tools wasn't the thing that was first and foremost in this. I hadn't seen this partnership before," he said of the Lisbeth and Mikael tandem.

"I hadn't seen these two people working before to do anything. So I liked the thriller and I liked the vessel of that, but I was really more interested in the people front and center."

When he went back to the source material of Larsson's book, it confirmed what he felt was so strong about the script -- the relationship between Lisbeth and Mikael. "I was very taken with the way that Larsson sort of built these two stories in parallel and then brought them together and then eventually they crossed over. That is nothing new. That happens in Colombo," Fincher said and laughed.

One of the most striking aspects of Dragon Tattoo is its opening sequence. It features Karen O, score writer Trent Reznor and Atticus Ross' version of Led Zeppelin's Immigrant Song. The band is notoriously shy about licensing their songs for commercial use, but saw something in Fincher's film.

"Led Zeppelin is very protective, as they should be. They have an amazing catalog. I think they wanted to make sure that we respected it. It was our intention to communicate the idea that we didn't want to run it into the ground. We wanted to pick specific places like the teaser and the title sequence to do it. It was actually pretty easy," Fincher said.

The director would not go forward unless he felt the band was comfortable with what he wanted to do with their song. "We needed to make sure that they understood that it was going to be a cover. We weren't going to be licensing the actual performance. We wanted to do it with a woman's voice. It kind of went down like clockwork."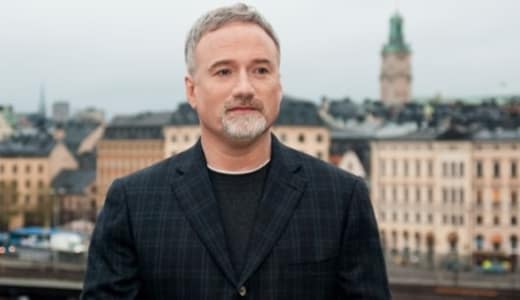 Working with
The Social Network
Oscar winner for Best Score, Trent Reznor, was a new experience for Fincher. Normally score is added later, but with Reznor so inspired by the book, Fincher had something to hear almost every day. "He is industrious. I would be in a van on the way to the location and I would get these MP3s from Trent in my email. I did have a lot of music," Fincher said. He did not, however, dictate his shooting style to the potential score he was hearing from Reznor. "The music was added in the way you normally would, although I did have access to many minutes of music before we started scoring the film, which was different because I had never done that before."
Lastly, and Movie Fanatic is hoping for a yes, but, we wondered if Fincher will be back for the next two adaptations of Larsson's second and third book. "Classically movie studios don't make deals with directors even if there is a hope that there are going to be three movies because they want to make sure that you behave," Fincher said and chuckled.