The Golden Globe nominations were announced this morning and there's so much to discuss, where to start? First, we have to look at who got snubbed. Tinker, Tailor, Soldier, Spy had hoped for a nomination for Best Picture, and failed. Gary Oldman was considered a lock to get some nomination love and also didn't secure one. Does this mean Tinker, Tailor's Oscar chances are sunk? Perhaps, time will tell.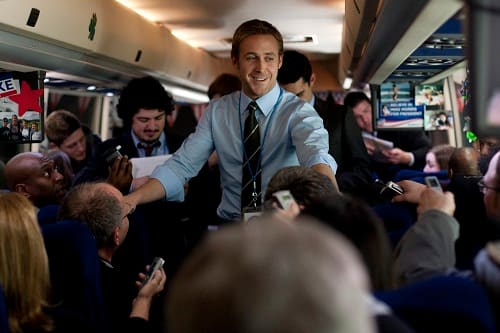 The Muppets
probably thought it had a good chance to secure a Best Movie, Comedy or Musical nod. But alas, it failed to happen. Also in the Comedy category, why wasn't
Bridesmaids
stand-out Melissa McCarthy nominated? To us, that is the biggest snub of all.
And even though she was a long shot, the Golden Globes adore Angelina Jolie and she probably thought she stood a chance as a Best Director nominee for
In the Land of Blood and Honey
. Apparently, the Golden Globes disagreed. Also a surprise was the absence of Armie Hammer in the Supporting Actor category for
J. Edgar
. His co-star Leonardo DiCaprio got a nod for Best Actor. Who does the Golden Globes think he acts across… a wall? No, it was Hammer and he should be there as he met DiCaprio note for note.
But, enough of the "who didn't get nominated." Let's focus on who did score a Golden Globe nod and what it means to the larger Oscar race.
Ryan Gosling had probably one of the best years of any actor out there. It was terrific to see him get two nominations, for
The Ides of March
and
Crazy, Stupid, Love
. Although
Drive
was the better movie over
Ides
, we're just happy Gosling is there twice… he deserves it.
Drive
did score an acting nomination, for the astounding Albert Brooks.
After witnessing Rooney Mara in action the other night (check out our
Girl with the Dragon Tattoo review
), we could not be more thrilled that she was nominated for Best Actress from a Drama.
Also a joy was the love given to
Moneyball
. The film scored a Best Movie, Drama nomination as well as acting nods for Brad Pitt for Best Actor and Jonah Hill for Best Supporting Actor. (Don't miss our
exclusive video interview with Hill for Moneyball
!).
All the
Moneyball
attention sure does one thing: Sets up the film to be considered heavily for Oscar gold. After Pitt scored the New York Film Critics' award for Best Actor and Hill scored a SAG nomination for Supporting Actor, we would be surprised if
Moneyball
did not nail a Best Picture, Best Actor and Best Supporting nomination come Oscar time.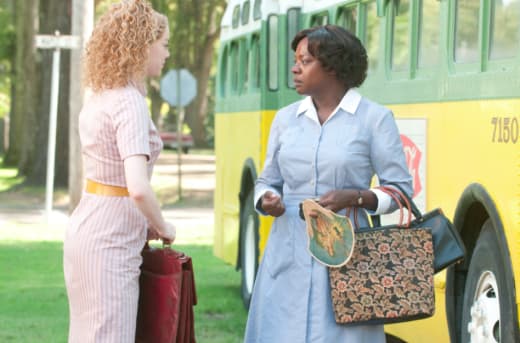 The hottest race for Oscar this year is in the Best Actress category. Judging by how the Golden Globe nominations went, that picture may be a little clearer. With Glenn Close (
Albert Nobbs
), Viola Davis (
The Help
), Meryl Streep (
Iron Lady
), Tilda Swinton (
We Need to Talk About Kevin
) and the aforementioned Mara (
Dragon Tattoo
) nominated for Golden Globes, we stand by our
Best Actress Oscar predictions
! Note that Michelle Williams
did
receive a nomination for
My Week with Marilyn
. But, the Golden Globes thought of the film as a musical or comedy. If you say so.
Lastly, how does the Golden Globes set us up for Oscars overall? With
The Artist
and
The Descendants
leading the way, consider those two front-runners for leading the Oscar nomination pack. George Clooney continues to be the favorite for Best Actor for his work in
The Descendants
and Viola Davis still leads for Best Actress from
The Help
. What muddles things, only slightly, is all the affection the Golden Globes gave
The Ides of March
. That was a film that was lukewarmly received when it arrived on screens. It was nowhere in the Oscar prediction world. So, does that mean its Oscar chances have heated up? Movie Fanatic does not think so.