Tom Cruise waited for the right script to return to the role of Ethan Hunt in the Mission Impossible franchise with Ghost Protocol. This movie cooks. Gone are the plot mysteries of the first incarnation and the action that was so expertly executed in the second and third films has been taken to another level in Ghost Protocol. The story works on so many levels and what's so incredible is the plot is never sacrificed for thrills. Director Brad Bird has crafted a Mission masterpiece.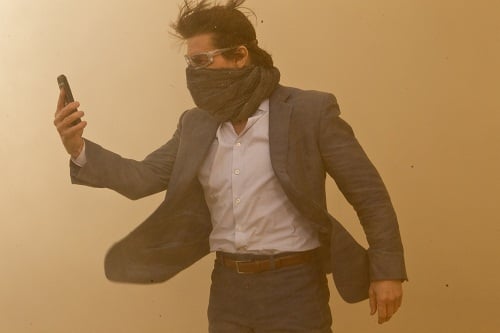 Mission Impossible: Ghost Protocol
begins its action in Russia when the IMF team (which includes
Mission
veteran Simon Pegg and newcomers Jeremy Renner and Paula Patton) is charged with breaking into the Kremlin for a piece of intelligence that, if fallen into the wrong hands, could start a nuclear war. Immediately the audience can tell how smart this
Mission
is while still being mesmerized by the disguises, action sequences and jaw-dropping suspense.
The stakes could not be higher in
Ghost Protocol
. By establishing nuclear war as the potential end game, every moment on screen pops with tension. But, there is also a fair share of humor. Much of it is courtesy of Pegg. With his comic background and acting chops, his Benji is not only the comic relief amongst a sea of suspense, but also he can button it up when the scenes call for seriousness.
Renner and Patton join Cruise's team and are astounding additions. Patton is no wallflower. Her Agent Jane is painted as a veteran of many IMF missions. She is so fierce, we could see her character as an equal in a Bond film. Renner's Agent Brandt is somewhat of a mystery. He is capable of greatness, but in Renner's performance, there is something in the character's past that is clearly haunting him. The actor makes his pain palpable and his performance is pitch perfect.
Director Bird was a possible question mark heading into the latest
Mission Impossible
film. The helmer had previously only worked in animation with his stellar efforts
The Iron Giant
,
Ratatouille
and
The Incredibles
. The latter, of course, contained its fair share of action. The man knows how to set a pace that crackles with excitement. In
Ghost Protocol
it is impressive how the stunts he orchestrates honestly eclipse all the past sequences in the last three
Mission
movies. Even that iconic CIA break-in scene in the first film is pale in comparison to the high-wire act Bird presents in
Dubai in Ghost Protocol
. We will say no more on that, it must be seen.
Ghost Protocol opens on IMAX screens December 16 before opening wide December 21. Movie Fanatic could not recommend enough taking in the film on IMAX. Many scenes are shot on IMAX cameras, including that Dubai sequence. It is so real that vertigo could ensue, and that is a very good thing.

After seeing Ghost Protocol, Movie Fanatic wants more Missions. If upcoming installments are half as thrilling, partially as powerful and a third of a thrill-a-minute ride as Ghost Protocol, they too will be astounding pieces of work.