Tom Cruise and his Mission Impossible: Ghost Protocol are the kings of the world's box office. Ghost Protocol has shot past $250 million in international box office sales as Cruise's latest Mission is proving to be his best. What better way to remember a remarkable film than with some memorable quotes from a Mission we would like to revisit again and again?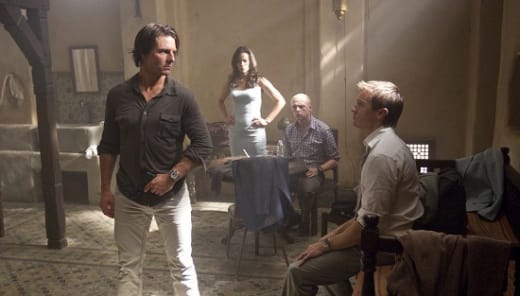 Cruise is back as Ethan Hunt and so is Simon Pegg as Benji. New recruits for the fourth in the
Mission Impossible
franchise are Paula Patton as Jane and Jeremy Renner as Brandt. As you ready to pop the cork on that New Year's Eve champagne, sit back and enjoy some explosive moments from our best
Mission Impossible: Ghost Protocol quotes
.
Ethan:
With great power comes great responsibility. |
permalink
IMF Secretary:
An hour ago, a bomb blew up the Kremlin. The President has initiated 'Ghost Protocol' -- the entire IMF has been disavowed. Now I've been ordered to take you to Washington where they will hang the Kremlin bombing on you and your team -- unless you were to escape after assaulting Brandt and me. But if anyone of your team is caught, they will be branded terrorists out to incite global nuclear war.
Ethan:
So what happens now?
IMF Secretary:
Your mission, should you choose to accept it... |
permalink
Ethan:
The Secretary is dead. The four of us are all that remains of the IMF. No safe house, no support, or extraction. Everyone connected with this man is an asset with valuable information. We come back with our target, or we don't come back.
Brandt:
And uh, how do you propose that we do that?
Jane:
We take him out.
Benji:
Yeah, we'll take him out, but discreetly.
Brandt:
Discreetly? |
permalink
Benji:
How come I'm Pluto? I'm not even a planet.
Brandt:
There's always Uranus [
grins
].
Benji:
Hah, that was funny, 'cause you said anus. |
permalink
Ethan Hunt:
Who are you really, Brandt?
Brandt:
We all have our secrets. Don't we, Ethan? |
permalink
Benji:
Blue is glue.
Ethan:
And when it's red?
Benji:
Dead. |
permalink
Brandt:
The rope isn't long enough!
Ethan:
No (expletive)!
Brandt:
You're not gonna make it!
Ethan:
You're not helping. |
permalink
Ethan:
Mission accomplished. |
permalink