Since director Garry Marshall's Valentine's Day earned over $100 million domestically, it seemed natural to choose another holiday where the pressure to find someone to kiss was ever present -- enter New Year's Eve.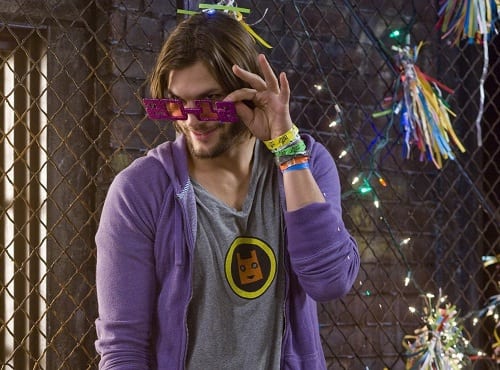 New Year's Eve
is an even bigger collection of stars than
Valentine's Day
. But, is that a good thing? Too many cooks is the phrase that comes to mind, but
New Year's Eve
will certainly touch the hearts of romantics and those who enjoy giant ensemble romantic comedies with easy-on-the-eyes stars.
The cast is astounding and easily the best of the year.
New Year's Eve
touts three Oscar winners in Robert De Niro, Hilary Swank and Halle Berry -- who are joined by Ashton Kutcher, Lea Michele, Michelle Pfeiffer, Zac Efron, Katherine Heigl, Jessica Biel, Jon Bon Jovi, Josh Duhamel, Sarah Jessica Parker, Abigail Breslin… you get the picture. And don't miss our
interview with Michele, Efron, Pfeiffer, Duhamel and Swank
!
Their interweaving stories chronicle the hours leading up to the big ball drop in Times Square on the last evening of 2011. Marshall even got the new Mr. New Year's Eve, Ryan Seacrest, to participate. There are no less than eight different tales that Marshall weaves over the course of his film and maybe that is inherently a problem. With the movie coming in at 117 minutes, that is approximately 15 minutes per storyline. Is that enough time to generate character arcs and build emotional connection between an audience and a film? Probably not, but that is not what
New Year's Eve
is truly all about.
New Year's Eve
is like that delicious beverage many partake of on the big night, champagne. It's sparkly, tastes delicious and is quite pristine. Yet, too much of it over time and the evening can leave you with one massive headache.
There are solid moments, such as hearing Michele and Bon Jovi singing together. Their vocals are brilliant together. De Niro could read the dictionary and it would be riveting. He plays a regretful father who knows this is not only his last New Year's Eve, but most likely his last night on earth. Watching De Niro and Berry, who plays his nurse, share scenes is an utter delight.

But overall, New Year's Eve feels a tad on the lazy side. There are enormous plot holes, but then again, that is not why audiences went to see Valentine's Day and it won't be why they line up for New Year's Eve. It is romantic, has funny moments, but mostly, it is the superstar movie of the year.