Noomi Rapace is enjoying her Hollywood moment. The star of the Swedish version of The Girl with the Dragon Tattoo is currently starring opposite Robert Downey Jr. and Jude Law in Sherlock Holmes: A Game of Shadows. The actress is also currently filming Ridley Scott's Prometheus and her excitement is palpable as she spoke with Movie Fanatic.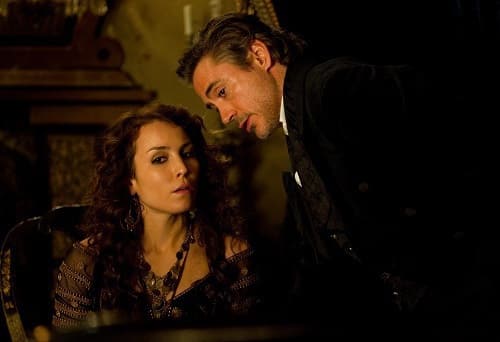 "I think I'm really spoiled now," Rapace said with a laugh.
"This was the first American or English spoken movie I did. I am extremely happy with
Sherlock
. Then I went, amazingly enough, to prep
Prometheus
straight after. And I was in that movie for five, six months. So it was a really intense year. And now I'm here with you. I'm really grateful for all those people that they believed in me and gave me the chance and invited me on this journey."
In
A Game of Shadows
, Rapace plays Sim, a gypsy integral to Sherlock Holmes (Downey) and Dr. Watson (Law) stopping the evil Moriarty from starting a world war. After the action of
Dragon Tattoo
and now
Sherlock Holmes
, Rapace is extremely comfortable getting in on a good fight. "I like doing those more physical scenes. I always enjoy that and I try to do as much as they allow me to do of the stunt stuff and the more complicated things. I think that's always quite easy," Rapace said.
"Of course, you're bruised and your body is aching and you hurt yourself a lot sometimes. But that's kind of a part of it. And I've done fight scenes and stuff like that before. I always find it quite amusing."
Now culling her heartstrings for a powerful scene, as a new English speaker (she only learned the language three years ago), that is a different story. "The emotional scenes were quite complicated because you need to really get into that situation in your head. You're filming in a room full of people with everybody watching! You feel like, in a way, you just want to hide and do it really private," Rapace said.
So how did the actress find working with Downey and his wife Susan Downey (
Sherlock Holmes: A Game of Shadows
producer)? "I met Robert and Susan six weeks before we started to shoot. It was a good, quick meeting in LA. We didn't really talk about
Sherlock Holmes
, but we talked about movies and dreams. I remember Robert asking me, 'How do you want to work?' And, 'What movies do you want to make?' And it was really super intense."
Rapace exited the meeting with the Downeys and could not have been more excited. "I called my manager and was like, 'Wow. Those two are amazing. I would love to work with them,'" she said. The Downeys felt the same way and then the phone rang. "Warner Brothers wanted to send me over to London to meet director Guy Ritchie. It was really also very intense. I came out of that meeting and felt the same way after meeting Robert and Susan. 'I would love to work with those people.' I didn't expect anything."

Perhaps there's a lesson there in Rapace's Hollywood journey? Expect little, work hard and embrace your good fortune. We, for one, cannot wait to see what this actress does next.