The official poster for the 84th Academy Awards has been unveiled and it is as regal as one would expect, but also quite nostalgic.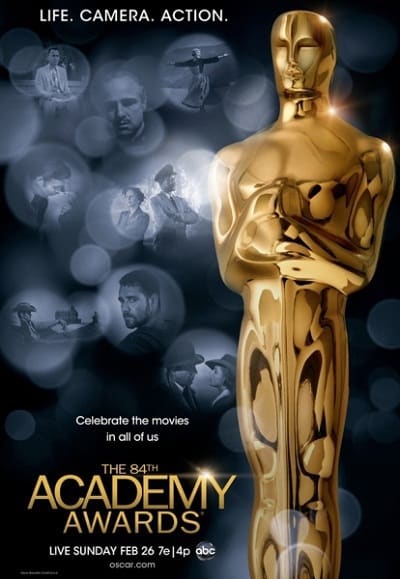 The design is an interesting choice. The Oscars are celebrating 84 years, not a huge marker year like 80 or 85 years, so the Academy's decision to tribute the past is fascinating. Yet when you think about it, it is indeed hardly surprising. The Academy of Motion Picture Arts and Sciences has always celebrated film's history.
The poster features stills from classic movies, new and old. There's Russell Crowe giving his steely glare from
Gladiator
. Marlon Brando is there as the
Godfather
and who could miss Bogart and Bergman's final goodbye in
Casablanca
? The hills are alive with a scene from
Sound of Music
while Tom Hanks sits on a bench awaiting a bus in
Forrest Gump
.
According to the event's organizers, the poster is "meant to evoke the emotional connections we all have with the movies." Sure enough, the official Oscar poster achieves that and more.
Academy president Tom Sherak spoke about the poster and put "the movies" and their importance to us as a people into sharp context. "Whether it's a first date or a holiday gathering with friends or family, movies are a big part of our memory," he said.
"The Academy Awards not only honor the excellence of these movies but also celebrate what they mean to us as a culture and to each of us individually."