The stars of Pariah, Adepero Oduye and Kim Wayans, as well as the writer-director, Dee Rees, recently sat down with Movie Fanatic to take us inside their Independent Spirit Award nominated film.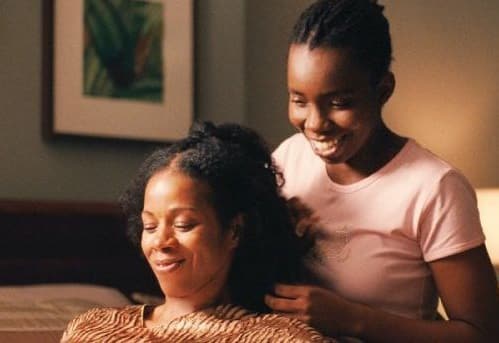 Wayans, most widely known for her work on her brothers' series
In Living Color
, welcomed the opportunity to tackle a drama, something she had been pining to do for years. "I knew that I could do this, but the doors in Hollywood have basically been closed to me, in terms of dramatic acting. I can't even get in the room to read. So, when this project came along, I was very fortunate that my manager had an in. She was friends with the casting director, so she begged the casting director to see me," Wayans said.
Rees needed someone who would not simply play an "angry black momma," according to Wayans. Her character of Audrey is the mother of the film's star Oduye who plays Alike, a teen lesbian coming to terms with her sexuality in a community that mostly shuns it. "They had seen almost every actress in town, at that point. They were about to rewrite the role because they felt like nobody was really getting what they wanted. Dee wanted somebody to bring Audrey's vulnerability to the surface. I went in and read, and I got it."
Oduye had to really show her gifts in playing Alike, a character miles away from her own persona. But, she found something congruent between her and the part. "I feel like Alike is at a point where she is exhausted of juggling all her identities for everyone else. She's really starting to figure out who she wants to be. She's in a place where she can discover her voice. She discovers it more through her writing. It's admirable because it doesn't always happen when you're younger. Sometimes it doesn't happen until in your 30s or 40s. Some people, it doesn't happen at all. She keeps getting knocked down, and she keeps getting back up."
The young actress knows all too well about coming into one's own. Telling her Nigerian-born mother she wanted to be an actress was difficult to say the least. "She said, 'You're crazy.' She thought because my father had passed away that that had pushed me to become an actor," Oduye remembered. "She thought I went crazy. I'm not crazy. I was really clear."
Her passion for her craft has paid off. Oduye is
nominated for an Independent Spirit Award
. "It's really surreal," she said of the nomination and its aftermath. "As an actor, you watch those things and you're inspired. One day it might be me. In a million years, I never thought it would happen for this movie."
Rees immediately knew when Oduye walked in that she had found her Alike. "She was amazing," the director said. When the young actress shared her experience as a first generation American with Nigerian parents, Rees also knew that she could tap into that to capture Alike's feeling like an outsider status.
"She shared experiences where she felt like she didn't fit in or she had those experiences of feeling like on the outside. So in that way, she was able to tap into the character and just bring herself to the role, she had that feeling to not know what it is to be able to be free. She brought that with her."
For
Pariah
filmmaker Rees, the film was a personal journey that had to come to a successful conclusion. In many ways, filming proved cathartic for the openly gay filmmaker. "I think there's intolerance and homophobia across all communities. With this film, I wanted to show a cross-section of the world where people respond differently and they all have different reactions, and so I think that would be something that people can tap into."
Sure, the award nominations are great, but for Oduye, being able to spend time with a business veteran in Wayans was one of the greatest aspects of making
Pariah
. "The cool thing about this movie was that Kim and I were able to be really close, laugh and have fun," Oduye said. "There was a lot of talking and advice."
Wayans' success in the role in some ways she credits to her background as a comedic actress. "What it's done is give me a certain kind of fearlessness, so I'm not afraid to bare it all," she said. But she is also quick to say that the biggest task was tackling a character who is a mother on one hand, yet is able to let her daughter go because of life choices that she does not agree with.
"She just broke my heart. I didn't see her as a monster or a villain. I saw her as being just as much a victim as everybody else. She's a victim of what she believes -- her belief system and the things that tell her that her daughter's lifestyle choice is wrong. She was just so sad, so lonely and so disconnected from everybody that I just had a lot of compassion and a lot of empathy for her. Once I approached it from a place of a mother fighting to save her child, I was really able to hook into that."

What Wayans wants audiences to take away from Pariah is its theme of acceptance. Whether it be understanding a gay friend or relative or someone who even just chooses to live life in a manner that is far from the so-called norm. "I hope that they'll receive it with love and with acceptance. I hope that it will open eyes for people. I hope it will create dialogue," Wayans said. "I hope that people take the message from it, of acceptance and of loving people for who they are, and not trying to impose your value system or your judgments on anybody, but just love and accept."