Puss in Boots was a delightful surprise in 2011 and is surely going to be one of the contenders for the Best Animated Feature Oscar in February. For those of you that missed the Antonio Banderas and Salma Hayek-starring instant animated classic, good news: It's coming on Blu-Ray and DVD February 24.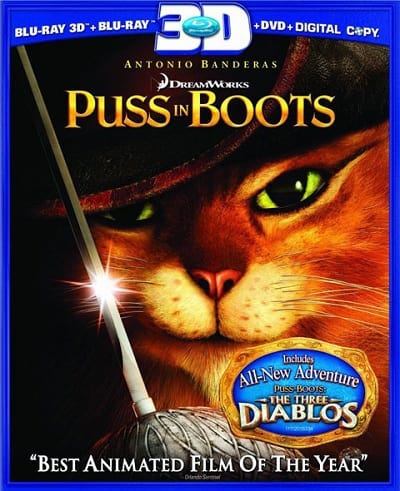 In
Puss in Boots
, Puss is joined on his adventure with Kitty Soft Paws (Hayek) and Humpty Dumpty (a hysterical Zach Galifianakis), as well as Jack and Jill (Billy Bob Thornton and Amy Sedaris).
The film banked over $391 million in global gross and should do quite well for itself when it comes home, not only on Blu-Ray and DVD, but also on the emerging format that is Blu-Ray 3D.
We do not have a list of the bonus features for
Puss in Boots
, but one thing you can count on that was a mesmerizing treat in the
Shrek
series' home videos are the animated bloopers. What else can you expect: How about the terrific
Three Diablos
animated short? Pretty good, no?