Rob Lowe and Jeremy Piven Are Melting: The Movie Fanatic Interview
by Joel D Amos at . Comments
Rob Lowe and Jeremy Piven both have had great success on the big screen. But of late, both have made indelible marks on the small screen. Lowe has blown up thanks to West Wing, Brothers and Sisters and Parks and Recreation. Piven, as everybody knows, kills it each week with his Emmy-winning turn on Entourage.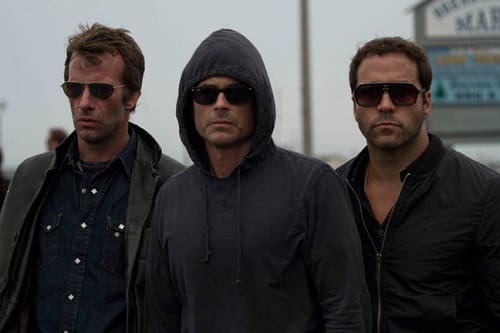 Both Piven and Lowe found something special in the film
I Melt with You
and tell Movie Fanatic about why they chose that picture as their next big screen adventure. The film follows four friends on their yearly trip to the wilderness for a weekend of debauchery and reunion. The trip portrayed in this film ends a little differently.
"The script was unlike anything I had ever read. I knew that if it was done correctly, it would be so provocative and push so many buttons that there would be people who would definitely get up and leave. If we did it right," Lowe said and laughed.
"That appealed to me, coming from a lot of network television. And studio filmmaking today is 'don't ruffle the audience, gain as much acceptance as you can gain' -- it's the center of the net philosophy. So to do something so in your face in its audacity was something I wanted to try."
Piven welcomed the chance to put himself out there in
I Melt with You
, even more than he does losing himself in
Entourage's
Ari Gold. "As an actor, there was no place to hide in this movie. That's what you look and hope for. It would be great if movies like this were being made on all different levels, but that's not the case," Piven said.
"I have sort of a similar theme in that I had been on the show
Brothers and Sisters
and was just beginning
Parks and Recreation
," Lowe added. "My dream is that people watch an episode of
Parks and Recreation
and then watch this movie right afterwards. Because what you always want is for people to see you as an actor using all the clubs in your bag. Between those two, that's about what I've got. To be able to have these two things at the same time is really fun."
Lowe also appreciated the manliness of
I Melt with You
, a rarity he says in Hollywood. Sure, films such as
The Hangover
are men being men, but for comedy's sake. "You don't get movies about what men are really like. Because guess what? It's complicated. It's dark. It's not pretty. It's amazing. It's exuberant. It's fun. And it's hard to pin down," Lowe stated.
"This movie, what I loved about it is it's an examination of the male id in a really serious way but given to you in a way that's really entertaining. Usually the best we can hope for as guys is
The Hangover
. That's our Jane Austen, our Herman Melville. That's as good as it gets for us."
That point was what led Piven to the small, independent film -- the ability to portray not only men, but a human being as true as possible. "As an actor, it's your dream to uncover humanity and all its warts with any character you play and it's something I'd been trying to reveal with eight years on
Entourage
. To get it all done here in 87 minutes is pretty rare," Piven said.
The film also stars Thomas Jane and Christian McKay. Filming took place in Northern California and allowed all the stars to effortlessly come together, as opposed to shooting in the comfortable confines of Hollywood.


"In this group it was very easy to bond with these guys. We were all in it together," Piven said. "This is one of those bare bones, love the game, no trailers, no money, no nothing type situations. And we just all embraced it. We were all there for the right and the same reasons."

While Movie Fanatic has Piven in the room with us, we have to ask where things are with the long promised Entourage movie. "We're just waiting on the script and all that kind of stuff. And this film [I Melt with You] is kind of like if the group of guys from an Entourage had gotten together and they went to a place that we never got to see during those eight seasons," Piven said. "This is uncharted territory for men relating to each other on camera."