Shame only concurs with what Movie Fanatic already believes: Michael Fassbender is one of the greatest actors working today. His performance in Shame is astounding and is like a cinematic earthquake of power, presence and brilliance.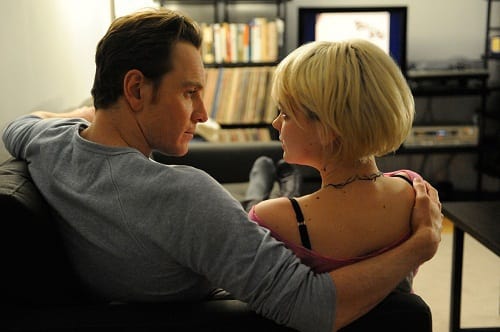 The film explores the taboo subject of sexual addiction, but it is truly about so much more as it also delves into family dynamics and how the scars left by parents may result in ongoing self-destruction by their children.
In that vein Carey Mulligan stars as Sissy. She is Fassbender's onscreen sister. She is as lost as he is bullish in his sexual conquests. The relationship between Fassbender's Brandon and Sissy is tenacious at best, but it is in that sibling connection that we see the heart of Fassbender's character. Throughout the movie, he can appear as cold as the New York City winter raging outside. But there is something about the presence of Sissy that brings Brandon, eventually and literally, to his knees.
Director
Steve McQueen
is brilliant behind the camera. His landscape of
Shame
is even more commanding than he established with his first film, also starring Fassbender, 2008's
Hunger
. McQueen films his movie allowing the audience to never judge the characters that inhabit his world. He paints a picture that is simply the reality of those individuals and allows the viewer to go on a ride that is powerful and mesmerizing. McQueen shows Brandon on a self-destructing path, yet we never have any idea of how the journey will end. Will Brandon be able to save himself or his sister? Does this man have the capacity for love beyond his sexual addiction? The beauty of McQueen's work on
Shame
is that hand is never tipped until its astounding finale.
At times
Shame
can be downright painful to watch, and that, believe it or not, is a very good thing. Watching someone who philosophically repeatedly puts his face out to the world hoping to get punched is never easy. But in the hands of Fassbender, his Brandon is a hero more than an anti-hero. We pull for him to get his life in order. There is something about the nuances in Fassbender's performance that allows audiences to feel strongly for this man, despite his legions of faults.
And Mulligan delivers as well, making Shame a double-edged sword of thespian triumph. She goes toe-to-toe with Fassbender and the winner is the audience. In fact, what may be the best eight minutes of the film belong to her and it is captivating. She sings New York, New York at a jazz bar while her brother watches from a nearby table. McQueen had the brilliant idea to make the Frank Sinatra big band standard a blues song and as such, we get to witness the first signs of true emotion emitted by Brandon as he proudly watches his sister on stage. In those moments, Fassbender further convinces us solely with his eyes, even without his dynamic delivery that we've seen in Jane Eyre and A Dangerous Method, that Hollywood has found the decade's next leading man.

There is a lot that is exposed in Shame, not the least of which is famously the Fassbender Full Monty. The film is rated NC-17, which got us thinking: How come in the U.S. pervasive sex in film warrants the rating kiss of death, while films that serve as virtual violent slaughterhouses can get an R, or even at times a PG-13? That is the true shame of Shame, that its audience may be limited by its rating. In fact, this is a film that qualifies as a must-see for anyone who appreciates the command of the human spirit that is so captured by the art of cinema.