Sherlock Holmes: A Game of Shadows is an utter delight on so many fronts. Most clearly, the chemistry between Robert Downey Jr. and Jude Law is priceless. Their Sherlock Holmes and Dr. Watson have a bromance for the ages that began in the first film and is only enhanced in the second.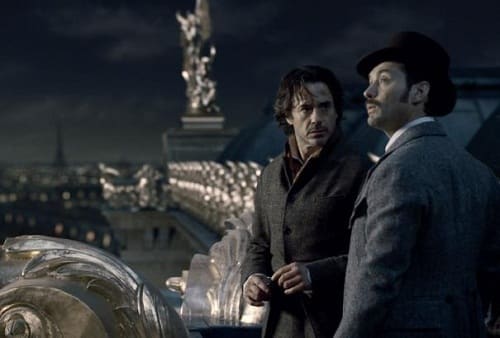 A Game of Shadows
begins with a wedding on the horizon: Dr. Watson's. Holmes is the best man and he and his sweetheart Irene Adler (Rachel McAdams) have a dinner date before the big wedding festivities begin. Watson has kept his promise to his fiance and kept his work with Holmes to a minimum. When it becomes clear to Watson and Holmes that a series of bombings, assassinations and random deaths are all connected to a certain Professor Moriarty, the dynamic duo swing back into action.
Director Guy Ritchie is so in his element with
A Game of Shadows
. His filmmaking technique is a match made in heaven for this 21st century rendition of the Sherlock Holmes legend. Nobody uses slow motion as effectively and efficiently as Ritchie. Particularly when there is a moment in the film that leads to an audience question of how did they do that, before the action starts, he flashes through in slow and fast motion sequence illustrating exactly how Sherlock or Watson manage their magic escapes or what have you. It is a feast for the eyes… and ears.
The addition of
Noomi Rapace
to the boys' club proves fruitful. Her portrayal of the Gypsy Sim in her first English language role after the Swedish
Girl with the Dragon Tattoo
series is impressive. She naturally gels with Downey and Law and not only fits right into the repartee, but contributes to it immensely.
Our villain in
Game of Shadows
is the evil Moriarty, Holmes' most notorious villain from the Doyle book series. Actor Jared Harris is steely sinister and devilishly delicious as Moriarty and brings a panache that matches Downey's Holmes throughout the entire film. If Downey and Law's crystal clear camaraderie is what makes
Sherlock Holmes: A Game of Shadows
tick, it is Downey and Harris' acting fencing match that gives it its gusto.
Downey and Law give off sparks that have us believing they could recite the alphabet together and it would be equal parts humorous, powerful and extraordinarily entertaining. If Oscars could be given for best duo in a motion picture, Law and Downey (what are our top 10 Downey films?) would win in a landslide. Each was born to appear opposite the other in this series, at this moment in time.

Movie Fanatic does not report this without serious thought, but A Game of Shadows is the most fun you will have at the movies this year. Sherlock Homes 2 is simply an all-out blast. You'll smile, laugh, cry, laugh some more, gasp for air from the thrills and finally leave the theater amazed at the pure unadulterated entertainment that a group of talented cinematic geniuses have put together.