It must be a superhero celebration day after we premiered photos from The Dark Knight Rises this morning, as we now have six new stills from The Amazing Spider-Man.
First, we have Gwen Stacy (Emma Stone), who appears to be serious about her schoolwork.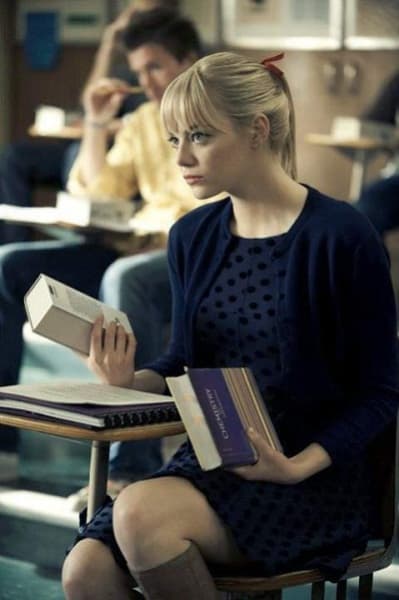 Next up we continue our photo series with a look at Spidey's new web-shooting hands. It's an interesting take on the classic superhero's weapon of choice.
The Amazing Spider-Man
promises to tell the never-before-seen story of our favorite webbed superhero. In this incarnation, he is played by Andrew Garfield. As seen here, his new talents after that fateful spider bite have their benefits, such as taking the ball away from an unsuspecting high school basketball player.
We adore Denis Leary and to see him as a part of this franchise is an utter delight. After premiering a
photo of him posing from Spider-Man
, we get one of Leary in action as George Stacy… yes, he's Gwen's pop.
The last two photos give us insight into Garfield's character and his journey to Spider-Man. First, he roughs up a bully and second, he appears to be practicing a little web flying.
The film arrives July 3, 2012 and these photos are terrific, but when will we get a trailer?