Jonah Hill proved his movie star mettle yet again as his The Sitter opened in second place behind the superstar heavy New Year's Eve. The comedy is as surprisingly touching as it is hilarious and further proves Hill is the man when it comes to comedy with a heart. Another joy witnessing The Sitter is it is filled with memorable quotes to keep us laughing days after we've seen the flick.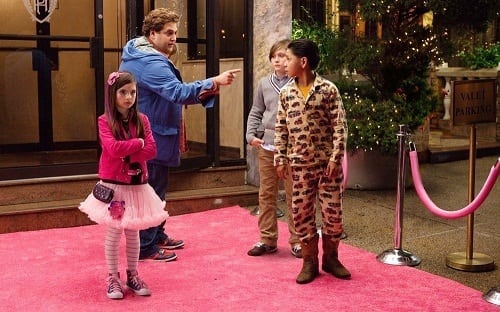 Hill is Noah, a slacker given the selfless task of watching over three young kids for his Mom, Sandy. Hilarity and chaos ensue when he takes the kids into New York City.
It's time to sit back and enjoy some of our favorite
The Sitter quotes
.
Noah:
My name's Noah Jaybird. Ca caa! What's your name?
Soul Baby:
They call me Soul. Soul Baby.
Noah:
Soul Baby?
Soul Baby:
Yeah.
Noah:
Keep it in control baby. Tears, no fears man.
Soul Baby:
Is that right?
Noah:
Respect it, don't neglect it. Treat it, don't beat it.
Soul Baby:
You're a bada** motherf**ker. |
permalink
Karl:
I let my haters be my motivators! |
permalink
Noah:
What's up little tampon? |
permalink
Noah:
I'm more of a 'sit on the couch, do what I say or I'll kill you' type of babysitter. |
permalink
Sandy Griffith:
Have you started looking for a job yet? What about babysitting?
Noah:
Babysitting sucks. Adult men don't babysit things. |
permalink
Gangster:
You got some big a** balls, man.
Noah:
Can't find underwear. Balls don't fit. |
permalink