Tom Cruise Talks Up Mission Impossible Action, But Where's Les Grossman Movie?
by Joel D Amos at . Comments
At the Dubai premiere of Mission Impossible: Ghost Protocol, Tom Cruise was in a looking back and looking forward mood. The superstar talked about which action sequence in the Mission Impossible series was his favorite, and also dished the latest on that Tropic Thunder Les Grossman spin-off movie we're all quite excited about.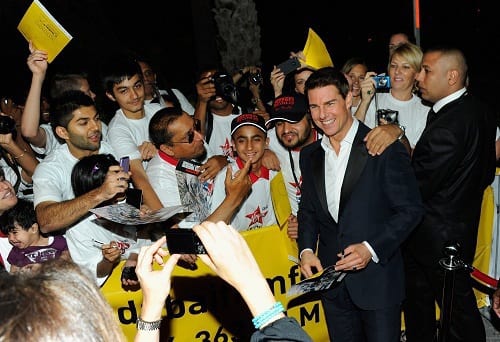 Ghost Protocol
is opening December 16 on IMAX screens, followed by a wide opening on December 21. While in Dubai at the film's world premiere, Cruise was asked by MTV News what his most memorable action scene was in the series.
Given the scope of the wild thrills that Cruise has given us over four films, including the current film's Dubai building scaling, his answer was quite nostalgic as he chose the iconic breaking into the CIA scene from the first film.
"I remember when I was doing it, my head kept hitting the floor. I was running out of energy, and we were running out of time," Cruise said.
And who knew that Mission: Impossible director Brian De Palma had such a sense of humor? Apparently, he made Cruise dangle there for quite a while before the scene was called.
"De Palma knew that we had the shot, and he just held it and held it. I was like, 'How long can I hold off the floor?' Brian had a fantastic laugh, and then he said, 'All right, cut.'"
Sure, excitement is high for Ghost Protocol, but what people really want to know is where is that Tropic Thunder spin-off film featuring the hilarious Les Grossman?
"It's not where we all want it to be," Cruise said. "[Les Grossman] is so much fun to do. There are all different kinds of things we're thinking about."