The Girl with the Dragon Tattoo opened early with 7 p.m. showings on December 20 and has made $5.1 million since then, but it still can't catch Tom Cruise and Mission Impossible: Ghost Protocol. It was impressive when Ghost Protocol opened on only IMAX screens last Friday and wound up in second place at the weekend box office. Look for that momentum to continue through the weekend as a few new films opened yesterday and two big ones on Friday.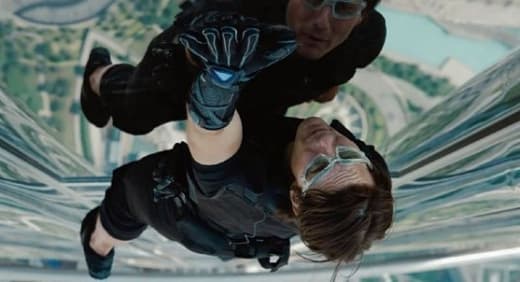 The David Fincher-directed
Dragon Tattoo
is still doing impressive box office (and check out our
exclusive interview with Tattoo star Christopher Plummer
). The film that is extremely dark, violent and has a hard "R" rating isn't the most attractive film to pull in holiday audiences. But, then there are those 60-plus million books that have sold. That's a very huge built-in audience as they say here in Hollywood.
Ghost Protocol
is now on 3,500 screens nationwide and joining it in the wide release department besides
Dragon Tattoo
is the Peter Jackson-produced and Steven Spielberg-directed
The Adventures of Tintin
.
Since
Tintin's
opening, it has disappointed.
Tintin
has been drawing little attention in this crowded Christmas movie season. In its first days of opening,
Adventures of Tintin
has banked $2.3 million. Don't cry for Spielberg,
Tintin
has banked over $200 million internationally already. It doesn't have to make a profit in the U.S.
Friday sees two films opening that could make their marks, particularly with families.
We Bought a Zoo,
the charming Matt Damon-starring, Cameron Crowe-directed true story is a delight (check out our review December 23) and its word of mouth has been incredible with a month of advanced screenings feeding its buzz. The second is
another
Spielberg-directed film,
War Horse
. The jury is out on that one. Will audiences turn up for a second Spielberg movie in as many weeks?
Check out our
War Horse
review later today and see if it's worth your time. While you're at it, read our
The Adventures of Tintin
review
,
Ghost Protocol review
and
The Girl with the Dragon Tattoo review
.