The comedies of 2011 have been an eclectic bunch. From Bridesmaids and Bad Teacher to Hangover 2 and Harold and Kumar 3, it was a banner year for making audiences LOL. Movie Fanatic takes a look back at the year that was and delivers our top 10 comedies of 2011.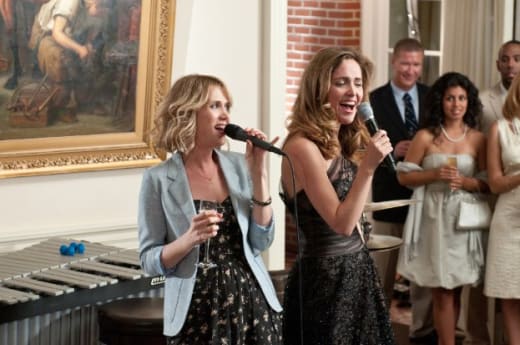 10. The Hangover Part II
Sure, it was in many ways the same story as
The Hangover
. But, with the Wolfpack in Bangkok, the stakes were so much higher -- therefore the comedy came at a much more virile pace. Plus, the monkey makes the picture. Also, the fact that Mr. Chow (Ken Jeong) is in the film in a much bigger role, adds layers upon layers to the funny factor.
9. Tower Heist
Tower Heist featured Eddie Murphy at his 1980s and 1990s comic best. Wisecracking, aggressive and aloof, his character of Slide is the heart of the comedy in the flick. But, he isn't the only comic foil in Tower Heist, and that is what makes it one of the ten best of the year. Ben Stiller has always been a great straight man, and there is something magical about his playing that role opposite Murphy. If the film reminds audiences of 48 Hours and Trading Places, that is another indication that Tower Heist scores.
8. Bad Teacher
Cameron Diaz does for teachers in Bad Teacher what Billy Bob Thornton did for Santas in Bad Santa. We cannot imagine anyone else nailing the role of the alcoholic teacher who is only teaching until she can find a rich husband. Bawdy and brilliant, Bad Teacher is a laugh-a-minute comedy that even featured Jason Segel in a part that allowed the comic actor to be more astute than his usual roles. But, in the end, Bad Teacher is the Diaz show and boy does she deliver.
7. Cedar Rapids
Cedar Rapids is one of the smartest comedies of the year, period. Ed Helms, Anne Heche and John C. Reilly star as a group of insurance salesmen who gather for a yearly conference in the titular Iowa city. Helms is astounding in channeling a man who has never left his small town and is on a mission to save his company. If he doesn't win the conference's big award, dozens of his co-workers may be out of a job. Cedar Rapids is a fish-out-of-water story, where the pond is very small and the fish are even smaller.
8. A Very Harold and Kumar 3D Christmas
Flat-out, fall-off-your-chair funny, A Very Harold and Kumar 3D Christmas scores on a multitude of levels. It is the rare film that uses 3D technology for laughs. There is something so naturally silly about the pairing of Kal Penn and John Cho, and in Harold and Kumar Christmas, they scrap the onscreen friendship and reboot it for laughs. Plus one can count the solid Christmas movie comedies on one hand and Harold and Kumar instantly shoots into that rare group.
5. Paul
Paul is a sci-fi film, yes, but as it stars Simon Pegg and Nick Frost it is most certainly a comedy of the highest order. What happens when two geeks leave Comic-Con and embark on a journey of alien-sighting hotspots as they have a real extra terrestrial encounter is pure original hilarity. When the voice of Paul (the alien) is Seth Rogen, comic craziness increases exponentially.
4. Attack the Block
Sure, Attack the Block makes it two alien comedies in a row on our best of 2011 list. But, Attack the Block is leagues different than Paul. For starters, it's an alien invasion movie and second, its humor is blink-and-you-miss-it sharp. The film went under many people's radars this year, but for home video audiences, it is a must see.
3. Horrible Bosses
Horrible does not even begin to describe the bosses in Horrible Bosses. And that is what makes it so irreverently uproarious. Jennifer Aniston plays against type as a sex-crazed dentist abusing her assistant (Charlie Day). Kevin Spacey does his best evil boss who makes life miserable for Jason Bateman. And never has a comb-over been as funny as it is on Colin Farrell, who spends his time terrorizing Jason Sudeikis. When the trio of underlings enlist the help of Jamie Foxx to kill their bosses, hilarity ensues is too tame of a description for where Horrible Bosses heads.
2. Crazy, Stupid, Love
Arguably the best romantic comedy of 2011, Crazy, Stupid, Love is also one of its best flat-out comedies. A sign of a great comedy is hilarious quotes. And Crazy, Stupid, Love quotes are aplenty. Plus any movie that features a tortured Steve Carell innately will be one of the year's best.
1. Bridesmaids
Bridesmaids is not simply one of 2011's best comedies, it is one of the best in recent memory. Kristen Wiig became a movie star with Bridesmaids, but she was simply one part of an ensemble cast that hit all the right comic notes -- including Melissa McCarthy, Ellie Kemper and Maya Rudolph. Bridesmaids simultaneously rocks smart humor, physical comedy and delivered-with-panache jokes. Also a sign of a comedy that is worth its weight in gold: Viewers can see it again and again and it never loses one ounce of laugh-so-hard-you'll-cry power.