2012 is looking to be a bang-up year at the movies with some of the most anticipated movies of our time finally hitting screens. From The Avengers and The Amazing Spider-Man to The Dark Knight Rises, superheroes will have their say. Yet, there are also a slew of new tales to be told that have caught our eye as well… like Quentin Tarantino's Django Unchained and The Hunger Games.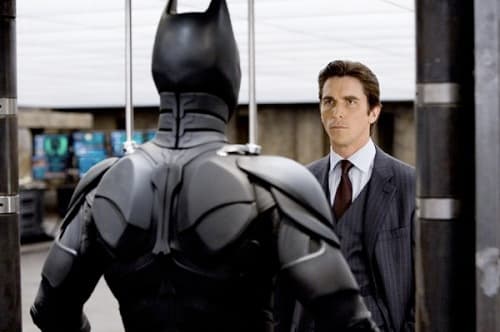 Movie Fanatic asked you in a poll
what your most anticipated film of 2012 is
, and now we give you our Top 10 Most Anticipated Films of 2012.
10. Dark Shadows
Tim Burton and Johnny Depp reuniting? We're in on that alone, but the fact that their latest is their take on the iconic television series about a family of vampires and we're all the more excited for its May 11 arrival.
9. Django Unchained
If Quentin Tarantino can do for Westerns what he did for World War II movies with
Inglourious Basterds
, then
Django Unchained
should be a thrilling, no-holds-barred adventure for audiences. Then, there's that cast! Leonardo DiCaprio, Samuel L. Jackson, Joseph Gordon-Levitt, Sacha Baron Cohen, Kurt Russell, Jamie Foxx and Christoph Waltz have us in a complete tizzy as to how good this film could be.
Django Unchained
arrives Christmas Day -- Merry Christmas 2012 indeed.
8. The Amazing Spider-Man
We've seen the
first stills from The Amazing Spider-Man
and our first inclinations that we don't need a new Spidey adventure so soon after Tobey Maguire hung up his web-slingers were quickly dashed. Andrew Garfield is a perfect Peter Parker/Spider-Man and we adore Emma Stone. To think she's Gwen Stacy… count us in when Spidey returns July 3.
7. Prometheus
Ridley Scott redefined the sci-fi genre with his astounding
Blade Runner
and
Alien
. The fact that it's been decades since he went into space alone would have tongues wagging in anticipation for
Prometheus
. When the first trailer debuted (below), audiences began to get a clearer picture of what this Scott sci-fi venture would be and Movie Fanatic is beyond eager to get into the theater when
Prometheus
debuts June 8. 
6. Snow White and the Huntsman
This is not your grandmother's Snow White story. Kristen Stewart plays a heavily armed and armored Snow White who is trained by Chris Hemsworth's Huntsman to do battle against Charlize Theron's Evil Queen. Although we haven't heard much of Stewart's characterization of Snow White, Theron alone has us ready to get in line June 1 to get more of her devilishly delicious performance.
5. The Hobbit: An Unexpected Journey
The prequel to the Lord of the Rings trilogy had been in development for what seems like forever. Once Peter Jackson -- director of the original films -- signed on, The Hobbit finally got going. Judging by the Jackson production videos, his newest vision for Middle Earth is going to match the majesty of his first three films based on J.R.R. Tolkien's books when it arrives December 14. Combine that with the fact that much of the original cast is back, including Ian McKellen and Elijah Wood, and The Hobbit starts our top 5 most anticipated films of next year.
4. Skyfall
Like The Hobbit before, the newest James Bond film ran into trouble from the get-go. Lucky for us, Daniel Craig was able to go off and do The Girl with the Dragon Tattoo (check out our review). Deals were signed, a title was announced -- Skyfall -- and Craig and company were back filming the 23rd movie in the Bond franchise. Craig is by far the best Bond since Sean Connery, so we are thrilled that all the I's got dotted and the T's were crossed and we have a new Bond film for 2012 with Craig wearing the tux once again. Look for it November 9.

3. The Hunger Games
Not since the Twilight Saga has a book series had such passion attached to it in terms of its coming to the big screen. The Hunger Games is Suzanne Collins' masterwork and with Jennifer Lawrence as Katniss, fans of the book have an actress who can deliver as their beloved heroine. Everything from Hunger Games stills to its poster release has captivated the world. One can only imagine the fever getting hotter as the March 23 release date gets ever closer.
2. The Avengers
All of our favorite Marvel superheroes in one film? We must have died and gone to heaven with the upcoming The Avengers. The Hulk, Iron Man, Captain America, Thor, Hawkeye and Black Widow will defend all that is good in the world when the bad guy from the Thor movie, Loki, sets his sights on destroying Earth. The Avengers' release date, May 4, seems like years away. But with us celebrating New Year's, at least the calendar year is finally the same as The Avengers' arrival.
1. The Dark Knight Rises
Christopher Nolan has done incredible work bringing the Batman story into the 21st century. His last opus, The Dark Knight, was so brilliant, it barely missed the cut to be nominated for Best Picture, but it did win an Oscar for Heath Ledger as the Joker. The Dark Knight Rises picks up eight years later and finds our bat hero fighting a villain that appears to be even more horrible than Joker. Bane, as played by Tom Hardy, promises to destroy Gotham and bring it to its knees. Sounds like Nolan has upped the ante and that is why The Dark Knight Rises is our most anticipated film of 2012. Dark Knight Rises arrives July 22.
Bonus! There are so many fantastic films we're excited for, here's a list of what other films are floating our boat: Men in Black 3, Brave, World War Z, Gangster Squad, Battleship, This is Forty, Underworld Awakening, John Carter, GI Joe: Retaliation, The Dictator, Les Miserables, Wrath of the Titans, Total Recall, The Expendables 2, Gravity, Abraham Lincoln: Vampire Hunter, Jack the Giant Killer, Savages, 21 Jump Street, The Great Gatsby and The Bourne Legacy.