One of the top grossing movies of 2011 has announced its 3D Blu-Ray and DVD release date. Transformers: Dark of the Moon will be coming home January 31, 2012 with almost four hours of extensive bonus features.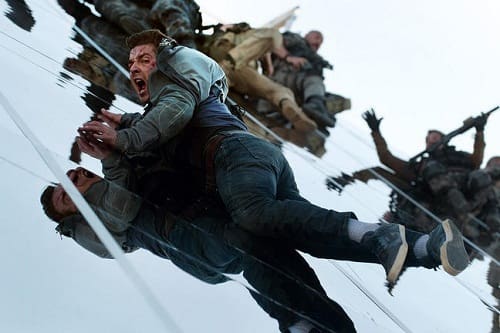 Transformers
fans can get
Dark of the Moon
in several formats when it arrives January 31 including the four disc ultimate edition Blu-Ray 3D and the Blu-Ray and DVD combo pack. "This Blu-ray 3D of
Dark of the Moon
will blow you away. If you've been waiting for the right time to get a 3D television, this is it," director Michael Bay said. "For fans that've been waiting patiently to bring
Dark of the Moon
home, this Ultimate Edition release delivers the goods."
Transformers: Dark of the Moon
earned $1.1 billion at the global box office and rightfully so -- it is the best of the series.
Among the extras that are sure to compel is the two-hour documentary that takes fans inside the global trek that was making the third
Transformers
.
If that is not enough, Paramount Home Video is also releasing the entire series on a seven disc limited collector's edition that features all three films, over 10 hours of extra footage and a plaque of movie images, signed by director Michael Bay.
The Blu-Ray/DVD Combo pack has the following features:
Disc 1 (Blu-ray):
Feature film in high definition
Disc 2 (Blu-ray):
Above and Beyond: Exploring Dark of the Moon
Rising from the Fallen: Development and Design
Ready for Prime Time: Filming Across America
Battle in the Heartland: Shooting in Chicago
Attack of the Birdmen: Aerial Stunts
Shadow of the Sentinel: Post-Production and Release
Uncharted Territory: NASA's Future Then and Now
Deconstructing Chicago: Multi-Angle Sequences
Previsualizations with optional commentary by director Michael Bay and previsualization supervisor Steve Yamamoto
Previsualizations/Final Shot Comparison with optional commentary by director Michael Bay and previsualization supervisor Steve Yamamoto
Visual Effects with optional commentary by visual effects supervisors Scott Farrar and Matthew Butler
Visual Effects/Final Shot Comparison with optional commentary by visual effects supervisors Scott Farrar and Matthew Butler
The Art of Cybertron, Autobots and  Decepticons
Disc 3 (DVD):
Feature film in standard definition
Digital Copy -- Compatible with iTunes and Windows Media