One reason to celebrate the New Year this weekend is on January 20, Kate Beckinsale returns to the Underworld universe in Underworld Awakening. To help you mark the occasion, Movie Fanatic has a few new stills from the upcoming film. Is it safe to say that there is a Selene pose? Beckinsale has the role of a lifetime in the Underworld series and in our first photo, she strikes a pose familiar to legions of fans. Her hand outstretched, gun in her grip, ready to extol justice... you know, the Selene pose!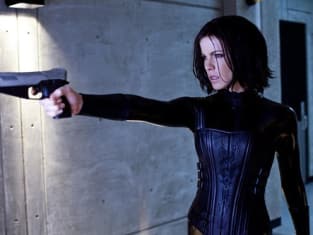 Our second photo shows Beckinsale's Selene avoiding a situation that appears to be a little hot. Stay with Movie Fanatic as the
Underworld Awakening
release date gets ever closer as we are all over this flick! And don't miss the latest
Underworld Awakening trailer
.