The story of Joey and Albert, horse and human caretaker, is expertly told on screen by Steven Spielberg in War Horse. His latest film is based on an iconic book and award-winning play of the same name about the relationship between a boy and his horse and how it's impacted by the arrival of World War I. As War Horse picks up steam at the end of the year box office, Spielberg recently sat down to discuss War Horse, his passion for horses and why he undertook the difficult task of bringing a beloved story to the big screen.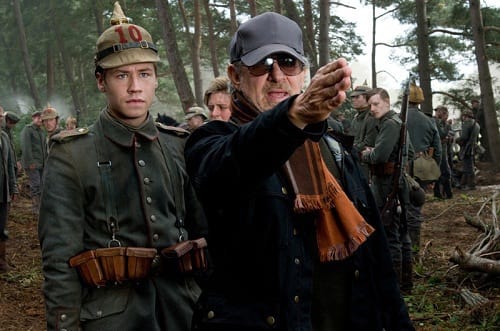 The esteemed filmmaker was all too eager to delve into the history of World War I -- something he felt was ignored in classrooms. "Why didn't I learn this in school?" Spielberg asked.
He and his production team headed to the Imperial War Museum in the U.K. and became WW I scholars. "They opened up all of their backroom exhibits that the public does not get to see on the First World War. And we were taken into the bowels of the museum into their archives. We went back there and we saw some things. We got statistics and learned so much that we didn't know about. I wasn't willing to bring it out in the film, because this wasn't meant to be a history lesson. There's nowhere in the film that says four and a half million horses were killed in the First World War. But it was important that we got to understand the jeopardy both Joey and his best horse friend, Top Thorn, were going to be in."
Spielberg cautions that he never saw
War Horse
as joining the legions of his war films. "It didn't hit the same button, didn't trigger the same response in me that
Saving Private Ryan
did with me wanting to tell more stories about my father's war," the director said.
"It's not one of my war movies. This is much more of a real story between the connections that animals achieve with people -- the way animals can actually connect people together. That's what Joey does. Joey's miracles are really in his great sense of optimism and hope and all the people he encounters. This was much more focused on the characters. The war certainly was a horrendous backdrop, created tremendous tension, drama, and the need to survive, but the war, unlike
Private Ryan
, was not in the foreground of
War Horse
."
Illustrating that point is an emotionally powerful scene in
War Horse
where a German and British soldier come together to help the titular horse. "There's a little moment where the Brit and the German are able to help Joey who's trapped in barbed wire. It was a lovely moment in the play, a very fleeting moment in the play, but it made a profound impact on me," Spielberg said.
The scope of War Horse is vast and Spielberg needed to be at his best to never lose focus on whose story he wanted to tell. "One of the biggest challenges of keeping track of all the stories was never forgetting Albert (don't miss our exclusive interview with Jeremy Irvine, who plays Albert). I was so afraid that Joey's experiences with other characters, both on the British and the German side, were going to erase the memory of the first act [with Albert]," Spielberg said. It was there that he turned to the famous novel, and not the award-winning stage play. "Unlike the play, [we] eliminate Albert from the entire second act of the film, which is what the book does, but not the play. The play has Albert connected throughout the entire experience on stage."

After viewing War Horse, it's clear that Spielberg has an affinity for horses. It's easy to see why. "I live with 12 horses, because my daughter who's just turned 15 is a competitive jumper and she travels the country in competition jumping her horses. Right now we have eight on the property living with us," he admitted. "So, I've been living with horses now for about 15 years. So, when I saw War Horse [the play], I was maybe even more ready to tell this story. Sometimes a story just connects with me. When they really connect with me with such intensity, I have to make the movie. I have to direct a movie, not produce, but direct it."