We Bought a Zoo marked the return of Cameron Crowe (Almost Famous, Jerry Maguire) to narrative storytelling in a family drama that possesses a ton of heart.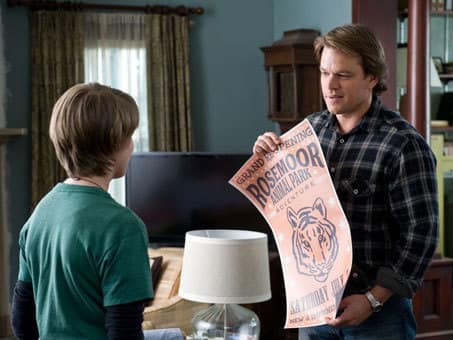 Matt Damon is Benjamin, a newly widowed father who at the urging of his brother Duncan who wants him to make a drastic change takes his two children out of the city to a rural area where they buy a house that has a zoo in the backyard. The zoo is in desperate need of help and is led by Scarlett Johansson's Kelly. 
Damon and Johansson are terrific and Crowe is back in top form. To celebrate Crowe's return to his cinematic roots, we present the best
We Bought a Zoo quotes
.
Benjamin:
You know, sometimes all you need is twenty seconds of insane courage. Just literally twenty seconds of just embarrassing bravery. And I promise you, something great will come of it. |
permalink
Benjamin:
This place is perfect! Why didn't you mention it earlier?
Mr. Stevens:
It's a bit complicated.
Benjamin:
Complicated's okay. What's so complicated about this place?
Mr. Stevens:
Well, you see, it's uhhh... (Lion roars, loudly) It's a zoo.
Rosie:
Yay!
Mr. Stevens:
Yay! |
permalink
Duncan:
I like the animals, but I love the humans. |
permalink
Benjamin:
Hey Rosie, am I doing anything right?
Rosie:
You're handsomer than the other dads. Lots of them don't have hair. So that's good. |
permalink
Benjamin:
I think you're incredibly pretty - please don't take offense if I don't hit on you.
Kelly:
I'd be offended if you did. |
permalink
Duncan
: At the risk of stating the obvious, you're insane. |
permalink
Kelly:
We need somebody who can take charge of this place, or else we and all these animals are gone.
Benjamin:
So your question is...
Kelly:
Why did you buy this place?
Benjamin:
Why not? |
permalink
Rosie:
We bought a zoo! |
permalink
Duncan:
If you're doing something for the right reasons, nothing can stop you. |
permalink