Cameron Crowe has returned to form with We Bought a Zoo. After the misstep of 2005's Elizabethtown, in 2011 he came back strong with the Pearl Jam documentary, Pearl Jam 20, and now he has We Bought a Zoo -- a stellar true story brought to life with love and a caring touch.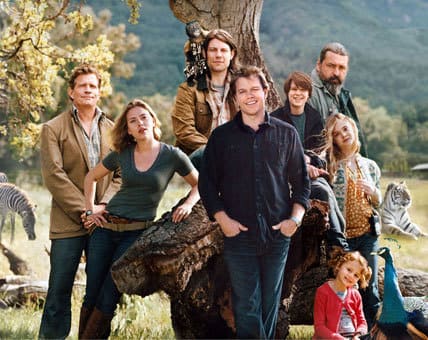 Matt Damon stars as a recently widowed father of a young girl and teenage boy. Each is struggling with the loss in their own way. They live in a quaint Southern California town where every corner brings a new memory of the love that they each lost. Damon's brother, played with class by Thomas Hayden Church, implores his younger bro to embrace change and shake things up. He never could have expected that his pep talk would produce… a zoo.
The family decides to move out of their house that is filled with too many great, but now painful, memories. While looking for a new abode, Damon stumbles upon a gem. It's far outside the city, is quiet and has everything he wants in a new home for his family. The only catch is, by contract, the new owner must maintain the 70-plus species on the property including lions, tigers and bears. Oh my... it's a zoo!
Once on the land, Damon meets the staff of the zoo who is hanging on paycheck to paycheck hoping that the right person will come along and save the zoo and bring it back to its former glory. Scarlett Johansson is the lead keeper,
Almost Famous
alum Patrick Fugit is the animal expert who is never seen without a monkey on his shoulder (the same primate from
The Hangover Part II
, this animal has a great agent!), plus there's a crew of misfits in search of a leader.
The problems are many, the hills steep and the costs are sky high. But, Damon sees what this zoo is doing to his kids and is determined to make it work.
Damon has never been better. We don't think we've seen him play a part with such sensitivity, compassion, parental power and overall presence. The acting superstar, in many ways, goes back to his roots for a role that calls for something simpler than he puts forth in the
Bourne
series,
The Adjustment Bureau
or the
Oceans
films. Damon has a firm grasp on this character and his solid anchor elevates the film to greatness.
Crowe expertly wields his camera and lets his actors do the work. Much as he did with Jerry Maguire (one of our Top 10 Tom Cruise Movies), Crowe allows his characters to move the story instead of directing with a heavy hand -- rightfully so, as it is a powerful true tale that possesses a lesson for all.

We Bought a Zoo is about family, community, getting over grief and the hope that despite all the mountains that life throws at us, in the end we can all summon the courage to climb any hill and cull the triumph of the human spirit. The film has chosen the perfect time to be released -- two days before Christmas. It serves as an impeccable choice for any moviegoer, family or otherwise. We Bought a Zoo echoes the theme of the season -- goodwill towards man (and animal!), bringing families together and the hope that when we all come together, nothing but greatness can be achieved.