Four new films hit the big screen, and which one is likely to knock off Breaking Dawn from the top of the box office heap? Garry Marshall is celebrating New Year's Eve early with his latest superstar romantic comedy after Valentine's Day. Jonah Hill is The Sitter and gets quite silly in the process. Charlize Theron is a Young Adult author with some serious issues, to audiences' great benefit and finally, John le Carre's Cold War classic, Tinker, Tailor, Soldier, Spy makes it to the big screen starring an astounding Gary Oldman.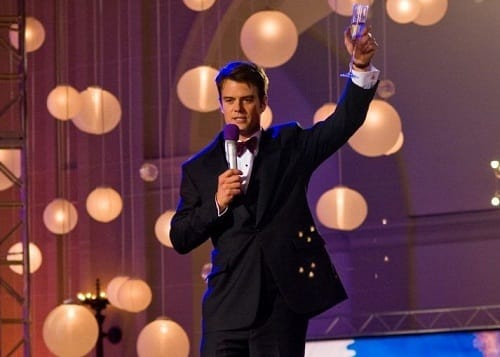 New Year's Eve:
An all-star cast, headlined by Oscar winners Hilary Swank, Robert De Niro and Halle Berry ring in the New Year in
New Year's Eve
. Director Marshall scored with the million superstars in one rom-com formula with
Valentine's Day
, does he do it again? Check out our
New Year's Eve review
to find out!
Tinker, Tailor, Soldier, Spy: Oldman, Mark Strong, Colin Firth and John Hurt lead a UK all-star cast of their own in Tinker, Tailor, Soldier, Spy. The film, based on the international bestseller by le Carre, is probably one of the smartest films you will see this year. Gripping suspense, a who-done-it tone and its power to throw back audiences to another time when war was fought by intelligence officers instead of soldiers should satisfy action, thriller, page-to-screen and intrigue fans of all kinds. Read our Tinker, Tailor, Soldier, Spy review to learn more.
Young Adult: Charlize Theron deserves an Oscar nomination for her portrayal of an author who heads home to her small town in Young Adult. Her character does not have a single redeeming quality and we love her for it. She is scheming and possesses the moral compass of a husband stealer. But with Theron handling the character, it is pure brilliance that is often funny and always engaging. Want to know more? Visit our Young Adult review!
The Sitter: Jonah Hill is tasked with watching over three young children so his mother can go on a dream date in The Sitter. When his girlfriend calls making promises that raise his eyebrows, he piles the kids in the car and heads to New York City. His and the kids' lives will never be the same. Is it funny? Head over to our The Sitter review to find out.