Charlize Theron achieves the impossible in Young Adult. Theron paints a picture with her characterization of Mavis Gary that does not have one shred of compassion, yet the audience is with her all the way.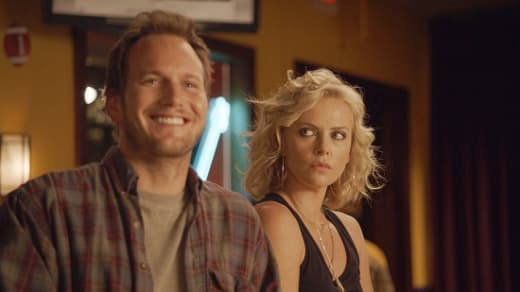 Theron is an author who composes novels in the titular genre. She is highly successful, but miles away from happiness. Gary is a thirty-something alcoholic, elitist divorcee, who gets an email announcement that her high school sweetheart (Patrick Wilson) has welcomed a new baby. Married with children? Gary can't let that continue as she suddenly awakes to the idea that she and Wilson's Buddy Slade were meant to be, but life and her authoring triumphs have gotten in the way.
So, what's a girl to do? She hops in her Mini and drives from her Minneapolis home to the small town where she grew up, determined to steal back the man she feels is rightfully hers.
The first night in town, she runs into an old high school classmate played by Patton Oswalt. The Oswalt-Theron chemistry is what really beats the heart of
Young Adult
. Both actors score on their own brilliantly in the film, but when they act together, the fireworks pop. And, we don't mean romantically. There is something that is raw and so real about the performances of both actors when they share scenes.
But overall,
Young Adult
is Theron's triumph. It is uncanny how the actress manages to cull sympathy from the audience when none exists for her character. Her performance is still haunting me, weeks after witnessing the film. She is transfixing and hasn't been this unattractive onscreen since she won an Oscar for
Monster
. And we're not necessarily talking about her looks. Sure she lets herself get quite disheveled as a full-on alcoholic, but her inner beauty is nonexistent as she spouts her wrath on her small town and its inhabitants, including the only one who "cares" for her, Oswalt's Matt Freehauf.
Most characters that are less than savory, unless of course they are villains, have some sort of moment of redemption. Don't count on it in
Young Adult
for Theron, and we would not have it any other way.
Young Adult is from screenwriter Diablo Cody (Juno) and reteams her with Juno director Jason Reitman (who most recently directed Up in the Air). The pair have done it again. Cody's script is sharp and warrants serious consideration for Best Original Screenplay at the Academy Awards. And Reitman knows how to take an audience on a Cody story ride, complete with effortless ebb and flow that adds up to one surprisingly salacious -- in a good way -- time at the movies.