Back in April of 2011, Movie Fanatic reported on Keanu Reeves' speaking out on the possibility of a Bill and Ted 3. Reeves even stated that a script was "six weeks away." Well, much like a phone booth passing through time, it's been almost a year since those fateful comments and according to Reeves' Bill and Ted co-star Alex Winter, don't hold your breath.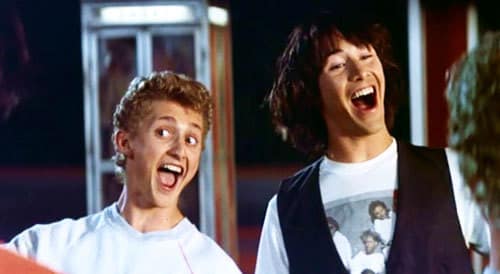 "I don't know. In all frankness, it's just a slow universe. It took us fifteen years to come up with an idea that we thought we'd want to do. We is just me and Keanu and Chris (Matheson) and Ed (Solomon) and we're all really close friends," Winter said. "We talk about it from time to time and we see each other a lot anyway. It's always like, 'Is there anything there to do? Is there a 'there' there?' A couple years ago, we were having dinner and we came up with an idea which has evolved over the years that we thought was really great. And we spent another year developing it just the four of us. Then Chris and Ed spent another year writing it. And the script only got finished two months ago and it's really green. It's the beginning of what could be nothing, frankly."
Is Reeves simply having fun with the
Bill and Ted
nation that would relish the idea of a third film in the series? According to Winter, most likely.
"There's hoopla because frickin' Reeves keeps blathering about it. Every time he's interviewed he talks about it and he's one of my closest friends and I love him dearly, but I think he's got a very post-modern sense of humor. I think he's doing it partially just to (expletive) with people. We wrote a script. We like it. We don't really even have the rights. Well, we kinda have the rights."
Not exactly the endorsement
Bill and Ted
fans would like to hear about a third go-around of the comic duo. "There's a long road of crap we have to deal with before it ever, if it ever, becomes a movie. I can tell you that Chris and Ed are really great writers and the script is fantastic so it would be fun to do."