The Ben Affleck-directed Argo has released its second still and it gives us more of a peek at the cast and the look of the film that is set in the 1970s.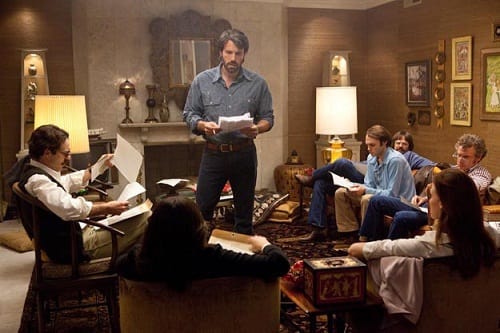 Argo
is based on the true story of the covert rescue operation to save six Americans who escaped captivity in Iran, all under the shadow of the larger Iranian hostage crisis that shook Americans in 1979. During the chaos of the Embassy takeover that saw 52 Americans held hostage for over 400 days, six managed to get away.
Argo
follows the effort to bring those half dozen citizens home.
Ben Affleck's latest directorial effort debuts September 14 and also features Alan Arkin, Bryan Cranston, John Goodman, Tate Donovan, Kerry Bishe, Kyle Chandler, Rory Cochrane, Christopher Denham, Clea DuVall, Victor Garber, Zeljko Ivanek, Richard Kind, Scoot McNairy, Chris Messina, Taylor Schilling and Michael Parks.