Beauty and the Beast first charmed audiences in 1991 as part of a Disney animation renaissance that began with The Little Mermaid. It became a blockbuster. The film featured songs by the famed musical duo of lyricist Howard Ashman and composer Alan Menken which became instant classics and won Academy Awards for Best Score and Best Song. Now Beauty and the Beast has gotten a Lion King-type 3D makeover and the question has to be raised: Does it work?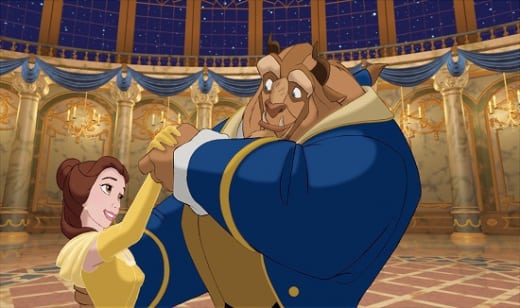 The answer is an unequivocal yes. Nobody does the color palette as Disney does and that is never more evident than when a film is seen in 3D. In the 3D re-release, scenes pop with a vibrancy that is still as powerful as when the film debuted over 20 years ago.
Even if one is not a fan of 3D, much less 3D conversions, what is worth every cent is witnessing
Beauty and the Beast
once again on the big screen.
One of Disney's most popular films is also one of its most resonant in message as well. Witnessing the majesty of the budding love affair between Belle (Paige O'Hara) and the Beast (Robby Benson) is pure bliss and it contains a priceless message for us all, particularly the youngest members of the audience. The beauty-is-within message comes through in the story from its beginnings.
For those who need a refresher course, the Beast wasn't always beastly. He was a vain prince who refused to give shelter from, what he perceived to be, a hideous old woman. She then left him with a curse that he would turn into the Beast and stay that way until he found someone who would love him for who he was -- fangs, claws and all. There is also a catch, she left him with a single rose that would slowly fade and eventually die when he turned twenty-one. As the story begins, it is merely weeks until that fateful date with destiny.
Meanwhile, back in a nearby village, Belle is not obsessed with finding a husband, as many of her contemporaries are. She would rather help her inventor father with his work and delve into her latest book. The Beast and Belle are brought together when her father wanders into his castle and is taken prisoner. She offers to take his place and the Beast agrees.
From the opening number of
Belle
to
Be Our Guest
, the soundtrack has proven timeless. Witnessing it in restored digital glory anew is astounding. The song
Human Again
has been dropped from this new version, yet the film doesn't suffer for it at all. In fact, the film feels tighter in 2012 than it did in 1991… if that's possible!
Beauty and the Beast was the first animated film nominated for a Best Picture Oscar. It's easy to see why and that fact is only amplified by the adding of a third dimension. It is not only the colors that pop off the screen, but the landscape of the Beauty and the Beast world comes alive with the added dimension. We should not be surprised, given Disney's history of magic, but in fact we were blown away and pleasantly so by Beauty and the Beast on the big screen. It is a reminder why Disney animation set the standard for excellence and continues to do so to this day.