Breaking Dawn Part 1 was one of the most successful films of 2011 and looks to be one of the best-selling DVD and Blu-Rays of 2012 when it comes home on February 11.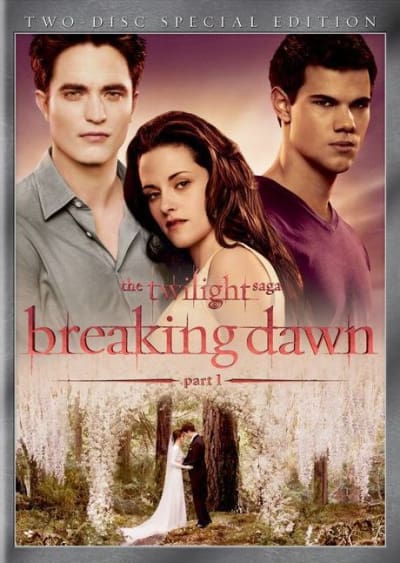 The story of Edward (
Robert Pattinson
) and Bella's (Kristen Stewart) wedding and its aftermath lie at the heart of
Breaking Dawn Part 1
. As we explain in our
Breaking Dawn review
, the film should more than please
Twilight Saga
fans.
Breaking Dawn
has banked $657 million (so far) internationally and as its two-disc special edition DVD and special edition Blu-Ray arrive on February 11, its earnings will continue to go through the roof.
Summit Entertainment released the specs for the upcoming home video release, and they are:
Special Features (2-Disc DVD & Combo only):
Six-part making-of documentary
Wedding video
Jacob's Destiny feature
Edward Fast Forward and Jacob Fast Forward
Audio commentary by Bill Condon, director
Order Due Date: December 13, 2011
Pre-sell Date: January 3, 2012
2-Disc Special Edition DVD: $30.49