When a film makes $288 million internationally and only cost $32 million, studio executives are eager to see a sequel. But, what happens if the person largely responsible for that hit has no interest in reprising her role or even being a part of the second film? Such is the case as Universal has announced plans for a Bridesmaids sequel, and star and co-writer Kristen Wiig has stated that she would rather work on something new.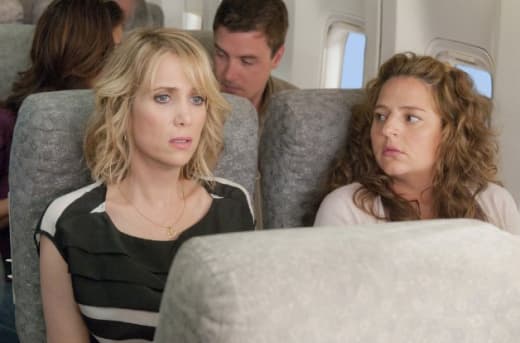 Bridesmaids
is not only one of the
best films of 2011
, it is earning serious Oscar buzz with its honoring by the Producers Guild, SAG and Golden Globes. So, why wouldn't Wiig return to the film that made her a superstar?
We guess it has a large part to do with integrity.
Bridesmaids
, in her mind, was never meant to be more than a one-off picture. With its success, sequel talk started immediately. But, Wiig is currently working with her
Bridesmaids
writing partner Annie Mumolo (both pictured above) on a completely different project. "Annie and I aren't planning a sequel. We are writing something else," she told
The Hollywood Reporter
.
Whether the rest of the cast, including Melissa McCarthy, Maya Rudolph, Rose Byrne, Ellie Kemper and Wendi McLendon-Covey, will return is a huge question mark as well. Apparently the cast, including Wiig, was hugely disappointed with the $100,000 bonus the studio gave them to mark
Bridesmaids
' success. Given the fact that it made almost $300 million, we could understand their resentment. But, sometimes, casts earn that big payday by appearing in a successful film's sequel as the
Bridesmaids
cast could with
Bridesmaids 2
.
With no Wiig, will they?
Regardless of the cast, Universal is saying that
Bridesmaids 2
is a go and will move forward.
Will you see a Kristen Wiig-less Bridesmaids?