Christian Bale dons the Bat suit one last time for the cover of the latest issue of Entertainment Weekly. In the magazine, out January 13, he talks about the strain of being Batman, especially after the success of The Dark Knight. "I can tell you the truth because I'm done with it. I felt immense pressure," Bale said. "I think it's a good pressure, because you owe it to the films and the people's expectations to make great work."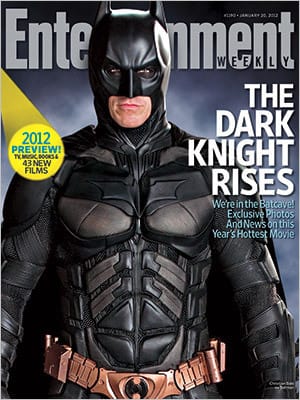 EW
rolled out its 2012 preview issue, where it looks at the most anticipated happenings in pop culture for the calendar year. Topping that list has to be
Dark Knight Rises
, thus the cover, which is saying something. 2012 will bring more anticipated movies than in recent memory (
What is your most anticipated 2012 movie?
). With
The Hobbit
,
The Amazing Spider-Man
,
The Avengers
and
The Hunger Games
, the year is looking quite crowded for blockbuster films.
The Dark Knight Rises
hits theaters July 20 and if director Christopher Nolan is nervous about reaction to the voice of villain Bane, as seen in
Dark Knight Rises' prologue
that screened before
Mission Impossible
, you would hardly know it. "I think when people see the film, things will come into focus. Bane is very complex and very interesting and when people see the finished film people will be very entertained by him," Nolan told
EW
.