When the Producers Guild announced its 10 best films of 2011 to compete for its top honor, there was one picture that was notably absent. Harry Potter and the Deathly Hallows Part 2 did not make the cut and that leaves us asking: Does that mean that the last Potter film will not get the Best Picture nod it is so hoping to earn?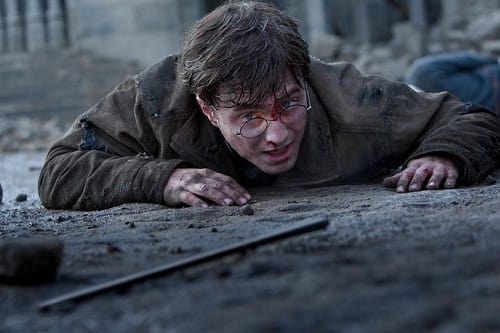 In short, yes. History has shown that the films that make the list for Producers Guild nominations wind up on the list of Best Picture nominees. But, that does not mean that
Deathly Hallows Part 2
is down for the count.
Warner Bros. has been pushing hard with advertisements all over Los Angeles asking Academy members for their consideration to make the final
Potter
installment a Best Picture contender. They are also pushing for David Yates and Alan Rickman to be considered for Best Director and Best Supporting Actor, respectively.
Harry Potter and the Deathly Hallows
Part 2
will definitely see itself nominated for Oscar gold. But, if you were to bet, it would be getting nominations for technical awards, such as special effects and sound.
Potter
films have never earned nominations for anything other than those categories, even though its cast is filled with some of the best British actors working today.
Overall, it seems that Warner's would welcome any acting nod for its cast. But what it is really pining for is that Best Picture nomination.
Given the fact that the Producers Guild included other blockbusters on its list in past years, including
Star Trek
in 2009 and
The Town
in 2010, perhaps it does mean the end of the road for
Harry Potter's
chances for a Best Picture nod as the Guild does recognize big films.
In our opinion,
Harry Potter
is one of
the 10 best films of 2011
and deserves to be honored as such. In light of the news this week, that is looking less likely.