Ewan McGregor never got to play England's greatest cinematic spy, but when he got the script for Haywire, he figured it was pretty close. "There was a spy element, what it is like to be an undercover spy -- James Bond," he said and smiled as Movie Fanatic spoke with the Irish actor recently. But, that wasn't the only selling point. It had star-making potential for Gina Carano and it was directed by Steven Soderbergh.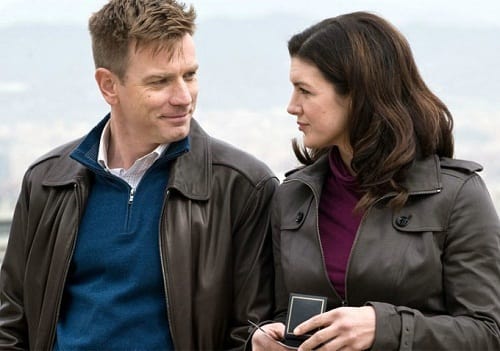 "At the center of it is this incredible strong female lead, which is unusual in a film like this. It was very intriguing, and for me personally, the opportunity to work with Steven was very strong. He's a filmmaker who is on all of our lists, in terms of people you really want to work with."
McGregor could not believe the utter professionalism of Carano and was amazed that she was making her movie debut. "I felt there was a complete ease, working together. So it was seamless really. It never crossed my mind," he said. "I never felt that I was working with somebody that was doing their first job. I knew that going in, and then it never crossed my mind really."
His hand-to-hand battle scene with the former MMA star was unlike what any of the other actors experienced, such as
Channing Tatum
. "I think my fight is very different. I'm fighting for my life. Channing is instigating, I'm defending. My Kenneth would not really, in reality, have lasted that long," McGregor said and laughed.
The actor was never worried about going toe-to-toe with Carano in those
Haywire
fight scenes. She is a pro, after all. "We were in very safe hands with Gina because she's so precise. I really never felt there was ever an issue or worry to get hurt. The only time I did get hurt was when I accidentally punched Gina in the head. I had three punches. One, two, and the third punch had to go right over Gina's head and I messed it up. I punched her solidly right in the side of her head, and she came straight up to me and said, 'Are you okay?' And I was trying to be very butch, 'Yeah, I'm fine.'"
In fact, he wasn't. "I had broken three fingers, and Gina didn't feel a thing," McGregor said with a chuckle. 
The actor's first scenes in Haywire (don't miss our review) immediately showed him that Carano came to play, as a thespian to be taken seriously. "We had a very long scene. We had this long walk down the staircase, all one shot, 'til we walk over to this handrail which reveals all of Barcelona below. It was a lot of dialogue and there was no cut, so we had to get it right from start to finish, and she just nailed it over and over again. It was never a worry."