Harry Potter's Emma Watson and Rupert Grint: Box Office's Top Couple
by Joel D Amos at . Comments
Forbes has looked back at the last five years and compiled a list of the onscreen couples who have added up to the most bank at the box office. Is it a surprise that number one, by a large margin, is Emma Watson and Rupert Grint? They have appeared in four Harry Potter films in the last five years, totaling $4.2 billion.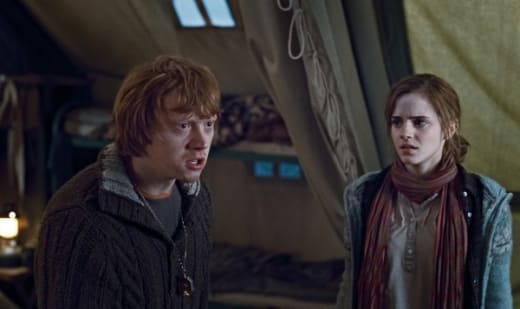 Way back in second place is that
Twilight
couple,
Robert Pattinson
and Kristen Stewart. Their onscreen love affair has earned $2.5 billion in box office revenues. Although they may not catch Grint and Watson, with
Breaking Dawn Part 2
still to come in theaters they may close the gap.
Although they are no longer an onscreen couple anymore as Rosie Huntington-Whiteley has replaced her, Megan Fox and Shia LaBeouf landed in third place. The Fox-LaBeouf romantic tandem scored $1.5 billion in their two
Transformers
movies.
Pepper Potts and Tony Stark, played by Gwyneth Paltrow and Robert Downey Jr., landed in fourth place with just over $1.2 billion at the box office for the
Iron Man
films. The fifth spot, ironically, contains earnings all from one film. That honor goes to LaBeouf and Huntington-Whiteley as their
Transformers Dark of the Moon brought in $1.1 billion
. If they rejoin for a fourth
Transformers
(which LaBeouf said he will not do), they should easily climb into fourth place.