If Haywire does not make a star out of Gina Carano, it is a high cinematic crime. Director Steven Soderbergh built an entire movie around the MMA star and she delivers. In fact, we cannot think of a more explosive film debut in recent memory.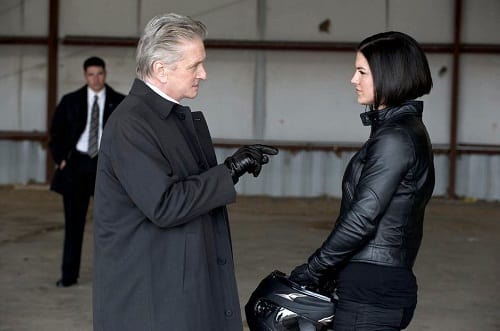 Haywire
follows Mallory Kane, one of the best at what she does for a government security contractor. She is a highly trained operative and goes to all corners of the world to bring justice where the U.S. cannot because of geopolitical sensitivity.
Soderbergh balances a narrative that flashes backwards and forwards, all events colored by "what happened in Barcelona." Mallory, near the beginning of the story, is at a remote diner in upstate New York when Channing Tatum walks in and she looks less than thrilled to see him. He's a "company" man and Mallory figures she will be brought in or die trying to avoid such a fate.
What happens next we've shown you in our
first five minutes clip from Haywire
, and the piece really sets the tone for the film. Soderbergh is a master at work on his latest and the way he weaves the action and plot movement is simply stellar. The director is firing, literally, on all cylinders and
Haywire
is one of his best (what are
Soderbergh's top 10 movies
?).
The soundtrack has an almost
Oceans 11
type of feel and the picture moves in the same slick manner. But
Haywire
is a much different piece of work and marks a triumphant arrival of the director in the action genre. The choreography on the fight sequences is brilliantly good, where the audience is continually holding our breath until each segment is complete. We can already say with great confidence that
Haywire
will land on our Top 10 Action Movies of 2012.
Supporting Carano in the cast, beyond the terrific Tatum, is Michael Douglas as a government agent who himself is trying to get to the bottom of the mystery. Antonio Banderas is a Spanish intelligence official who may or may not be helping or hindering that effort and in a tiny role, Michael Fassbender rivets.
Then, there's Ewan McGregor. The actor shows a side of his performance palette that is astounding. His characterization is equally compelling, creepy and charismatic while utterly disarming to the audience. Is he on Mallory's side? He owns the agency that she works for, but there is a hint of devilish delight in his bravado that leaves us guessing until the very end.
Haywire bucks the popular consensus that January is where studios sometimes go to dump their films that are so-so. It crackles with excitement around every turn. Lem Dobbs' script (he previously wrote Soderbergh's The Limey and Kafka) takes the cat-and-mouse element that when done right on film is pure bliss, and brings it to a whole new level.

The star of the film, even with all the superstars in the cast, is Carano. It is not only her fight sequences that feel so real that you marvel at her athletic prowess, but in the softer scenes it is easy to see that anyone who walks out of Haywire has just been treated to a "star is born" arrival. That is Haywire's greatest accomplishment -- it captures lightning in a bottle. And as most film fans know, that is indeed the rarest of moments.