Jennifer Lawrence and her co-star Josh Hutcherson are looking wild in a new picture from The Hunger Games that appeared in Entertainment Weekly. The duo, who play Katniss and Peeta, are looking quite serious in the latest still from one of the most highly anticipated movies of 2012. Note that this is also one of our first looks at Lenny Kravitz as Cinna (far right).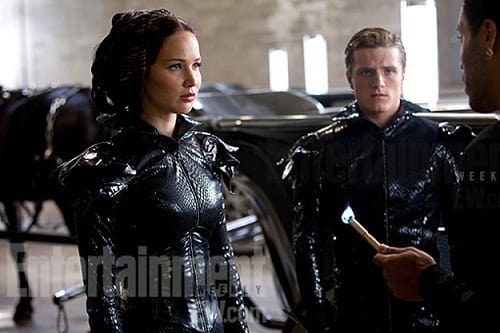 Director Gary Ross talked to the magazine about what Cinna is doing in the above still and Katniss and Peeta's outfits. "What Cinna was trying to do was create something that came out of District 12, out of a coal mining world, with a fresh bold look to it," Ross said. "So Judianna (costume designer) went to this wonderful black reflective material that glistened like coal or graphite and would obviously work well in the Tribute parade where Katniss becomes the Girl on Fire."
Could we get any more excited for
The Hunger Games
?