January 2012 movies are upon us and with The Devil Inside arriving January 6, the month is off to a downright scary start (check out our Devil Inside review). But the movie fun does not stop there as Kate Beckinsale is back in Underworld Awakening, Mark Wahlberg tries to move some Contraband and Liam Neeson battles The Grey.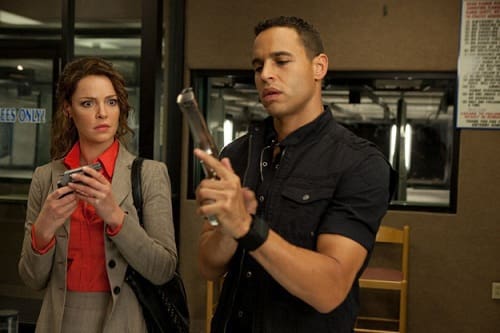 Joining
Devil Inside
on January 6 is Dennis Quaid in
Beneath the Darkness
, another creepy flick. Then on January 13, Mark Wahlberg and Beckinsale star in the action flick
Contraband
(check out the
trailer
), and who doesn't like Wahlberg in a tough guy action role? Also on the 13th is the apocalyptic thriller
The Divide
(Movie Fanatic just saw it and it is harrowing to say the least).
January 20 is a huge weekend in Hollywood as Steven Soderbergh's action foray,
Haywire
, comes to theaters -- don't miss the new full-length
Haywire trailer
. Joining the action fest that weekend is Beckinsale in
Underworld Awakening
. Ralph Fiennes gets Shakespearean in
Coriolanus
and we get a history lesson from Fox with
Red Tails
, the true story of the African American air fighting unit from World War II.
January 27 features the long-awaited movie version of Janet Evanovich's
One for the Money
. Katherine Heigl stars as the beloved character Stephanie Plum while Sherri Shepherd stars as Lula, a hooker with... you guessed it... a heart of gold.
Also out on January 27, we have two thrillers:
The Grey
starring Neeson and
Man on a Ledge
with its superstar cast including Sam Worthington, Elizabeth Banks and Ed Harris.
The Grey
follows Neeson's character who survives a plane crash in the Alaskan wilderness, only to discover he's landed in the middle of a pack of hungry grey wolves.
Man on a Ledge
stars Worthington as a man who was framed for stealing a diamond from Harris, and breaks out of jail to set the wrong right.
Which January 2012 movie are you most excited for?