J.J. Abrams was working the room at the TCA Winter Press Tour, talking about his upcoming show Alcatraz, and of course, thankfully so, Star Trek 2 came up. So, what's the latest with the highly anticipated sequel?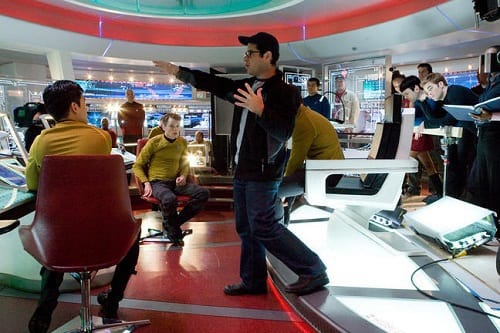 "We start shooting
Star Trek
on Thursday," Abrams proudly stated. With the pressure of studios asking filmmakers to shoot in 3D, how is Abrams going to handle what we hear is a
Star Trek 2
in 3D? "We're shooting on film, and the reason for that is I wanted to shoot with anamorphic, and you can't shoot 3D in anamorphic."
So, a 3D conversion looks like it's in order, but with Abrams at the helm, count on it to look magnificent. Abrams seems game for the effort and even his famous lens flares will still remain should they go 3D. "I've had some people make fun of me about that," Abrams said of his trademark effect.
Abrams went back to the original
Star Trek
and did some 3D conversion, just to test out the waters and it is clear the filmmaker loved what he saw. "[It] looked really good. That was the thing that made me feel like maybe that would be okay. But, I didn't want to shoot the movie digitally," Abrams said.
Star Trek 2
casting news has been a flurry of late, with Benedict Cumberbatch and
Nazneen Contractor
the latest additions. When it came to Cumberbatch, Abrams saw an actor who could embody a
Star Trek
villain, without going camp -- but also posses an iconic moniker. "We just were looking for someone with the most awesome name in history. That was the casting call. We asked for someone with the most awesome name in history, ever, and
Benedict Cumberbatch
showed up, so we were like, 'You're cast!'" Abrams said and laughed.
Lastly, Abrams spoke about where his
Star Trek
world exists and how it relates to the original series and movie series' timeline.
"With this movie, instead of having to stand on the shoulders of the original series, we built a little bit of a platform for us, with the last movie, to tell this story," Abrams said. "I think the job of the first movie was just to establish it. I don't want to give anything away, but I would say that the burden we had in the first movie was just existing at all."