Queen Latifah and Dolly Parton play dueling divas in Joyful Noise. When it comes to their singing and the music message of the film, it soars. How could it not with its premise of a Georgia church choir on their mission to win a national championship?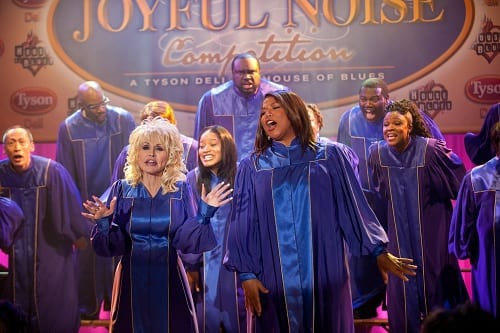 Parton plays a woman of privilege who is, it seems, funding her local church single-handedly. Her husband (Kris Kristofferson) is the choir leader as the film begins with a rousing number of
Not Enough (Love in the World)
in the
Joyful Noise
church choir competition.
Things rapidly change. The establishment's pastor (Courtney B. Vance) decides to hand over the choir's reins to Latifah's Vi. Parton's G.G. goes along, but with a raised eyebrow. At around the same time, Parton's long lost grandson Randy (Jeremy Jordan) arrives -- kicked out from his mother's home in New York City. Who should catch his eye? It's Vi's daughter Olivia (Keke Palmer).
Joyful Noise
feels a bit like
Glee
with its characters breaking into song on occasion. Mostly, it works. One particular sequence with Parton, unfortunately, does not. But the star of this film is its music. It is about as toe-tapping as movie music can get and uplifting to say the least. The gospel renditions of some popular songs, including Michael Jackson's
Man in the Mirror
and a mash-up of Sly and the Family Stone, Usher and Stevie Wonder, brought several people in my screening to their feet.
The interpersonal stories in
Joyful Noise
are what fall slightly flat. Parton's character isn't fully flushed out. There is a subplot involving Latifah and her husband that is muddled, yet the love story between the teenagers is quite compelling.
Joyful Noise knows its audience. Those wishing to witness an inspirational tale about overcoming the obstacles while keeping one's faith in God firmly in place, this is your film. People who appreciate a musical movie whose soundtrack pulsates with powerful singing and songs will also not be disappointed.

But the film is a bit like Glee in other ways as well. Of late, Glee has gone down like cotton candy, delicious at first and easily forgettable later. Joyful Noise is tastier than Glee, but its story is as likely to fade quickly. Yet, we have to be honest: This writer ran out after the screening and bought the soundtrack. Hearing the soaring voices of Joyful Noise is alone worth the price of admission.