Dolly Parton and Queen Latifah combined to make sweet music in Joyful Noise. The story of a Georgia church choir and their efforts to win a national championship is chronicled in the film that raises spirits and soars with a soundtrack for the ages.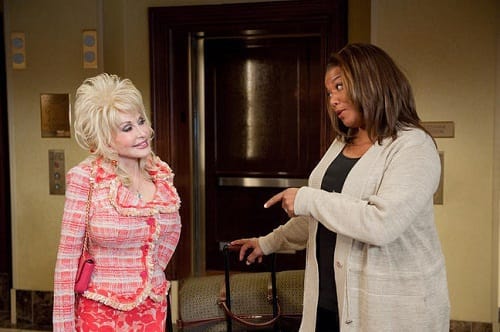 The film works at its best when Latifah (as Vi), Parton (as G.G.) and the choir are singing, but while the songs drive the film, the movie has some great lines as well.
We suggest you go out and pick up the soundtrack, press play and enjoy some
Joyful Noise quotes
.
G.G. Sparrow:
Well, I am who I am.
Vi Rose Hill:
Well, maybe you were... five procedures ago! |
permalink
G.G. Sparrow:
People do care, and if you don't like that, maybe you should move to New York. |
permalink
Vi Rose Hill:
Quit it with those nails, Edward Scissorhands! |
permalink
G.G. Sparrow:
Who cares if I've had a few little nips and tucks? God didn't make plastic surgeons so they could starve! |
permalink
Earla:
'Tap it and die!
Pastor Dale:
I heard that! |
permalink
Vi Rose Hill:
You want to join the choir? You just want to be near my little girl. |
permalink
G.G. Sparrow:
Our town needs to win! |
permalink
Vi Rose Hill:
Get your Beyonce out of my face. |
permalink