We've long heard about the Judge Dredd reboot that will take what Sylvester Stallone made campy in 1995 and bring it to the screen more in the manner that comic creators John Wagner and Carlos Ezquerra had in mind. Now, with the release of the new film's first still of Karl Urban as Dredd, we can see they are so on the right track.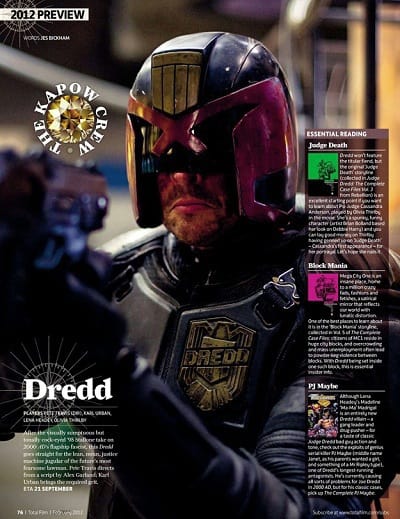 Total Film
magazine scored the photo from the flick that is set to open September 21 in 3D and 2D. We cannot think of a better actor to portray the man who is policeman, judge, jury and executioner of the streets of Mega City One. We believe he hints at some "Dredd-ness" with his role in
Priest
. Sure, his character is on the other side of the law in that film, but his fierceness and commitment to his beliefs in
Priest
is exactly what Stallone was missing in the first Dredd film.